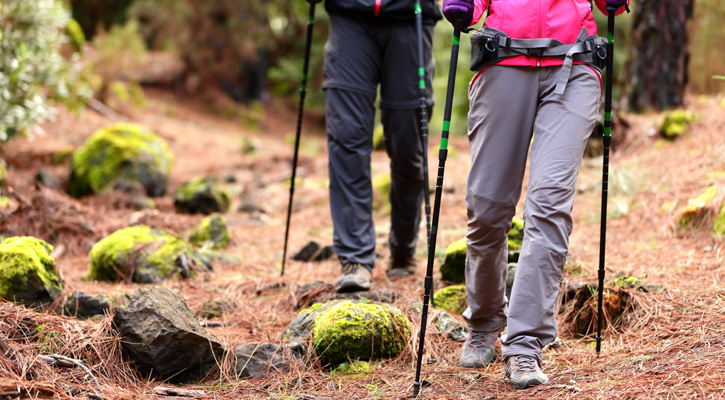 If you're a fan of prAna, you know that the brand stands for sustainability, high-quality, and fashionable outdoor clothing.
But what if you're looking for alternatives to prAna? That's what today's article is all about!
We've researched and compiled a list of 9 brands like prAna that offer the same level of commitment to environmental protection, durability, and style.
We'll explore Passenger Clothing, Patagonia, Vuori, Under Armour, and many more brands that offer premium, fashionable, and comfortable clothing that ensures you have an outstanding experience while enjoying the great outdoors.
Let's begin!
Contents:
1. Passenger Clothing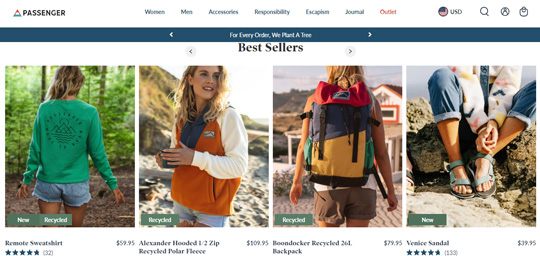 Passenger Clothing official website
Passenger Clothing is a well-known fashion retailer that was founded in 2013 in the New Forest, UK. The company specializes in producing outdoor clothing that appeals to those who enjoy spending time outdoors.
One of the most remarkable features of Passenger Clothing is its strong commitment to environmental protection. They plant a tree for each purchase they receive, demonstrating their focus on preserving the natural environment.
The brand is ideal for hikers, backpackers, and individuals who are active every day in their cities. They provide premium, fashionable, and comfortable clothing that ensures customers have an outstanding experience while enjoying the great outdoors.
Don't miss:
8 British Outdoor Clothing Brands that You'll Love
7 Brands like Passenger Clothing: The Best Alternatives
2. Patagonia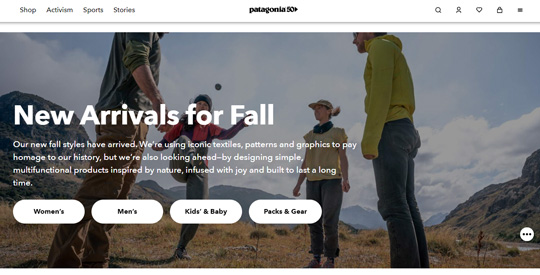 Patagonia official website
Patagonia is an eco-friendly American brand that specializes in high-quality outdoor apparel. The company was founded in 1973 by Yvon Chouinard and is a pioneer in the industry, offering long-lasting products that cater to a wide range of outdoor enthusiasts.
Its product line includes insulated and rain jackets, pants, hats, shirts, and more, all designed to be durable and versatile for various activities. Patagonia's jackets, such as the Nano Puff and Torrentshell, are highly praised for their quality and performance and come in a variety of designs for different types of weather.
This company is committed to sustainability and uses recycled materials in many of its products, while also donating a portion of its revenue to environmental causes. Also, Patagonia has strict guidelines for its suppliers to ensure fair treatment and wages for all workers.
Related:
9 Brands Like Patagonia for Sustainable Outdoor Clothing
Why Is Patagonia So Expensive and Popular? Are Its Jackets Worth It?
3. Uniqlo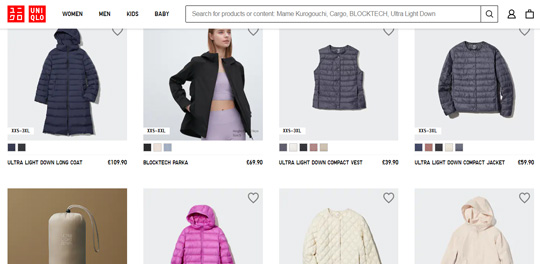 Uniqlo official website
Uniqlo, a clothing brand hailing from Japan since 1974, has become a popular name in the fashion industry due to its reasonably priced and superior quality products.
The brand offers a diverse range of clothing items, from basic to trendy, suitable for any occasion. Uniqlo is known for its minimalistic designs that are both practical and fashionable.
One of the most remarkable features of Uniqlo is its commitment to sustainability. The brand has implemented several eco-friendly programs, including the use of recycled materials and energy-efficient practices in its stores and factories. This makes Uniqlo an excellent choice if you want to support sustainable fashion.
Uniqlo also offers a wide range of outdoor clothing options. Their Ultra Light Down jackets are perfect for outdoor activities as they are both warm and lightweight. Additionally, the brand has a line of Heattech clothing that is specifically designed to keep you warm in cold weather without adding bulk.
Along with its outdoor clothing, Uniqlo also offers a collection of accessories such as gloves, hats, and scarves designed for comfortable outdoor wear.
In the end, Uniqlo is an excellent option for anyone looking for affordable, high-quality clothing that is both stylish, practical, and focused on sustainability.
Read also:
9 Brands like Uniqlo for Outdoor and Casual Wear
8 Japanese Outdoor Clothing Brands: Our Favorites
4. Lands' End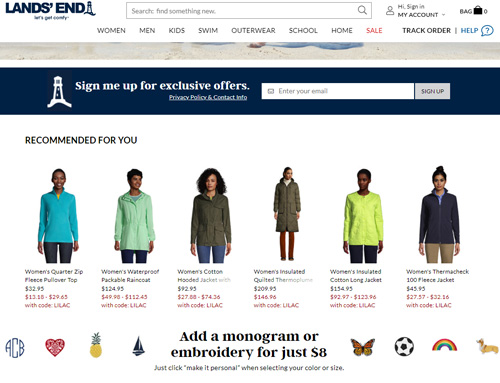 Lands' End official website
Lands' End is a famous apparel brand that prioritizes safety and simplicity in its men's, women's, and children's collections. It was founded in Chicago in 1963 by Gary Comer, who initially specialized in selling sailing gear.
Lands' End eventually diversified its product line to include a broad range of clothing items. The brand was originally named "Land's End," but a mistake in the first catalog and inadequate funds to correct the error resulted in the current name, "Lands' End."
Currently, the company is globally recognized and offers an array of styles and designs.
Read next:
9 Brands like Lands' End: Our Favorite Alternatives
12 Best American Outdoor Clothing Brands
5. Columbia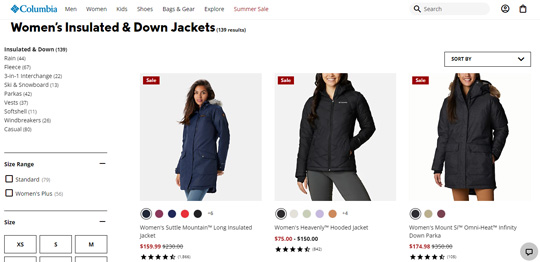 Columbia women's insulated down jackets: official website
In 1938, a family emigrated from Germany and settled in Portland, Oregon where they founded Columbia Sportswear, also known as just Columbia.
Despite being a global brand, Columbia has always maintained its identity as a small, family-owned business. The brand offers a wide range of outdoor products at affordable prices, catering to a diverse customer base.
But despite its lower prices, Columbia's materials and technologies are on par with other outdoor brands. The company has introduced several innovations over the years, such as the Omni-Tech fabric, which is both breathable and waterproof, and the Omni-Grip outsoles, which provide excellent performance for Columbia's hiking footwear.
Columbia's hiking shoes and jackets can be purchased for around $70-$80.
Don't miss:
10 Brands like Columbia Sportswear: Our Top Alternatives
Cheap Outdoor Clothing: 9 Best Affordable Brands
6. Under Armour

Under Armour official website
Under Armour was established in 1996 in Washington, D.C., and is currently headquartered in Baltimore, Maryland. Over time, the company has expanded its offerings to include a wide range of eco-friendly outdoor apparel, shoes, and athletic wear for football, basketball, and golf.
Initially, the company's product line was limited to basic T-shirts, but it has since evolved to incorporate innovative materials that prioritize durability and sustainability across various weather conditions, all while remaining affordable.
Under Armour is committed to using long-lasting and recyclable materials, and has significantly reduced its use of elastane in recent years. The company also incorporates recycled materials into some of its garments to minimize environmental waste.
What sets Under Armour apart is its extensive selection of sports equipment, all of which is available at reasonable prices.
Related: 8 Best Sustainable Outdoor Clothing Brands: Our Top Picks
7. Vuori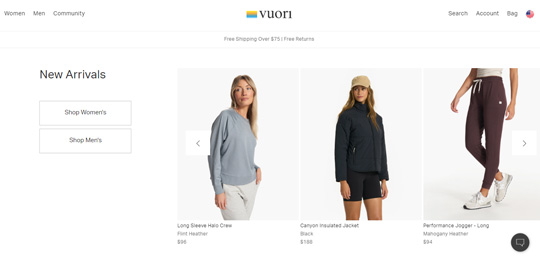 Vuori official website
Vuori is a brand that specializes in performance apparel, drawing its inspiration from the coastal California lifestyle. The brand aims to integrate fitness, sport, surf, and art, providing a unique experience for its customers.
Vuori is committed to investing in customer satisfaction and promoting a healthy lifestyle that inspires others to live vibrantly. In addition, the brand is dedicated to ethical and sustainable business practices, ensuring fair labor treatment, safe working conditions, and strict environmental practices.
Guided by its values and the Californian lifestyle, Vuori has developed a dynamic program to protect the natural environment through product creation and community relationships.
Vuori offers a variety of athletic and outdoor clothing, including tees, jackets, pants, and hoodies, all at reasonable mid-range prices. The brand is focused on bringing together people from all walks of life to share positive and meaningful experiences.
Read also:
9 Brands like Vuori: The Best Alternatives for Activewear
9 High-End, Expensive Hiking Brands for Clothing and Footwear
8. Orvis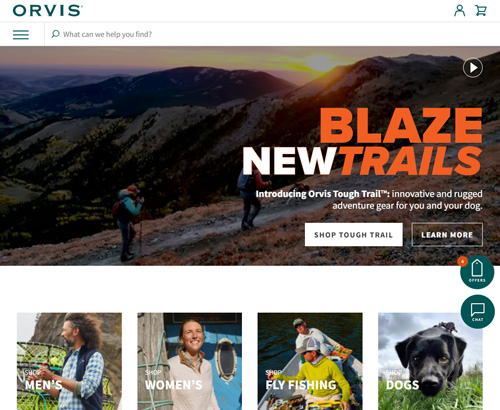 Orvis official website
Orvis is a brand that specializes in producing outdoor clothing and accessories for fishing and outdoor enthusiasts.
The company has a rich history, having been established in 1856 in Manchester, Vermont, and is recognized as the oldest mail-order company in the United States. While Orvis is best known for its line of fly-fishing clothing, their apparel is versatile enough to cater to any outdoor activity.
Orvis prides itself on offering exceptional customer service, professional care, and high-quality clothing inspired by nature. The company has grown into a fashionable clothing company, offering a range of outdoor clothing and accessories for both men and women. Additionally, Orvis is passionate about dogs and also provides a variety of quality pet accessories.
From the outset, Orvis has been committed to producing quality clothing at reasonable prices and creating products they can be proud of.
Read next:
10 Brands like Orvis: Top Alternatives for Outdoor Adventures
10 Oldest Outdoor Clothing and Gear Brands
9. Carhartt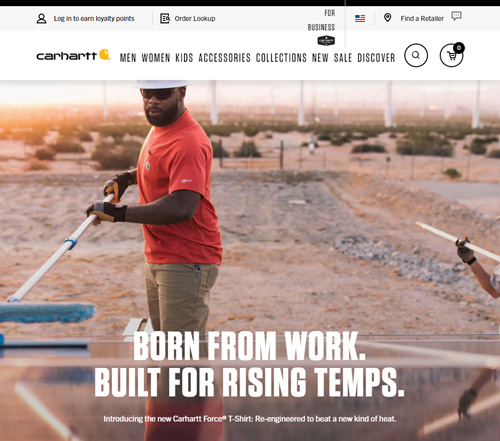 Carhartt official website
Carhartt is a renowned brand that was born in the United States in 1889. The company specializes in producing outerwear, clothing, bags, shoes, and accessories.
Initially, Carhartt began by producing overalls for railroad construction workers using two sewing machines in a small Detroit loft. Today, the brand is known for its durable and long-lasting clothing designs that can withstand significant wear and tear.
Carhartt's products are reasonably priced, making them easily accessible to numerous customers. Although initially, the brand was popular among blue-collar workers, it has gained popularity among young teenagers since the 1990s.
Don't miss: 11 Brands like Carhartt for Work and Outdoor Activities