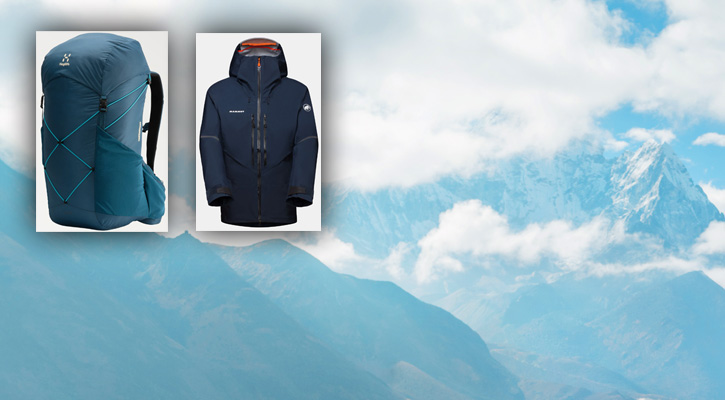 Two European brands that stand out as titans in the outdoor gear industry are the Swedish, Haglöfs, and the Swiss, Mammut. We have frequently featured them here on our website in previous articles.
Both companies have deep histories of crafting innovative, technical products that allow adventurers to push their limits out in nature. However, which brand truly rises to the top in terms of quality, sustainability practices, and value?
Today, in this article, we'll take an in-depth look at Haglöfs and Mammut to determine which provides the best gear for your outdoor expeditions.
From jackets and backpacks to the companies' commitments to the environment, there's a lot to learn about these brands.
By the end, you'll have a clear idea of whether Haglöfs or Mammut deserves a spot in your outdoor gear collection.
So, let's get started!
Contents:
1. Haglöfs Outdoor Gear
History of the Brand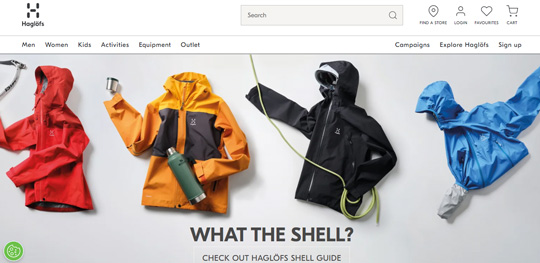 Haglöfs official website
Wiktor Haglöf founded the Haglöfs brand in 1914 in Sweden. He aimed to create a backpack that could endure any conditions during travels throughout the country.
The company has since expanded and diversified its product offerings while maintaining a focus on innovation and setting new standards in craftsmanship.
Haglöfs is committed to preserving the environment for future generations to appreciate. The brand encourages outdoor exploration, both physically and mentally, and believes that everyone can enjoy nature, regardless of the weather and experience.
Don't miss:
9 Swedish Outdoor Clothing and Jackets Brands: Our Favorites
7 Backpack Brands from Sweden: Our Favorites
Materials, Fabrics, and Production Process
Haglöfs aims to reduce its carbon footprint by 50% by 2030 through various means. These include using lower-impact and renewable materials, improving energy efficiency, and reducing plastic bag usage.
They also engage with consumers to minimize their impact and use the Higg Index to assess product sustainability. Haglöfs prioritizes responsible chemical, water, and energy management in their factories.
The brand sources animal-based materials from suppliers that prioritize animal welfare and ecosystem protection.
Haglöfs also uses advanced technologies in its products for protection, warmth, and breathability, including recycled materials and natural materials such as organic cotton, hemp, and lyocell/tencel.
The natural down insulation is certified by the Responsible Down Standard (RDS) to ensure good treatment of the birds in the supply chain.
Some of the brand's technologies and textiles include Recycled Nylon and Polyester, Mimic PLATINUM Ultracluster Graphene insulation, and GORE-TEX. These provide warmth, protection, and breathability during outdoor activities.
Haglöfs L.I.M - As Light as We Can Go
The video will be loaded from YouTube.com, a third party. If you play it, you accept their terms of service, and their use of cookies.
Read also: Haglöfs vs Arc'teryx Outdoor Gear: Which Brand is Better?
Where is Haglöfs outdoor gear made?
Haglöfs gear is predominantly made in Asian nations like China and Vietnam, as well as in European countries such as Poland and Romania. The brand's dedication to maintaining high standards of quality has played a significant role in its success, especially in Scandinavia.
Recommended Products
Haglöfs L.I.M GTX Active Men's Jacket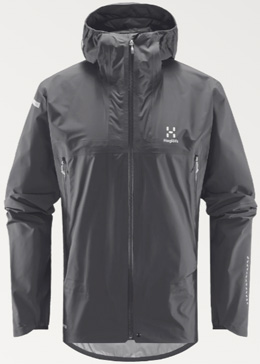 Image: haglofs.com
Check it out at Haglofs.com
The lightweight and technical Haglöfs L.I.M GTX Active Jacket is specifically created for summer outdoor activities. This jacket offers breathability, weather protection, and comfort through its combination of durable GORE-TEX Active 3 layer and GORE-TEX Paclite® Plus 2.5 layer fabrics.
For a better fit, the jacket features an athletic design, an adjustable hood, elastic cuffs and bottom hem, reflective trims for safety, and two zippered hand pockets with mesh ventilation. It is an ideal option for hiking, trekking, and backpacking and can be conveniently machine-washed.
Haglöfs L.I.M 35 Hiking Backpack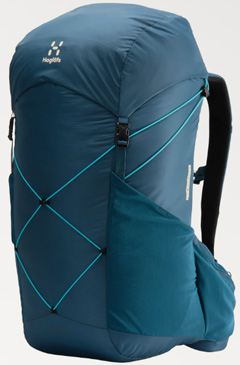 Image: haglofs.com
Check it out at Haglofs.com
The L.I.M 35 Hiking Backpack is a lightweight backpack that is ideal for backpacking and trekking. Its weight is 920 grams and it has a capacity of 35 liters. The backpack has an Airback suspension system that provides ventilation and airflow through the back contact zone, making it comfortable to carry during intense activities.
It also comes with elastic side pockets, zippered elastic hip belt pockets, and an elastic cord for compression and gear attachment. The backpack is compatible with hydration systems and features a fixed top lid with a pocket, an adjustable sternum strap, a padded hip belt, and load lifters.
The backpack is made of 70D*140D Diamond Rip-stop Polyamide/Nylon, which is approved by bluesign®.
Prices
Haglöfs is a mid-to-high-priced brand. Haglöfs jackets range from $100 to more than $600 for their most technical designs. Meanwhile, the bags and backpacks are sold at prices starting from $60 and going up to $300.
Are Haglöfs products worth the price?
We believe they are! That's because this brand implements various sustainable and innovative technologies and offers a wide selection of outdoor gear.
Read next: 11 European Brands for Outdoor Enthusiasts: Our Top Picks
2. Mammut Outdoor Gear
History of the Brand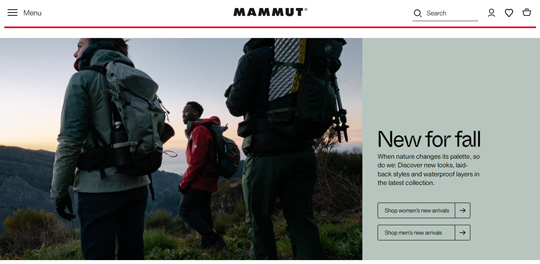 Mammut official website
Mammut is a renowned brand that specializes in producing high-quality outdoor clothing. The company is based in Switzerland and was founded in 1862 by Kaspar Tanner, who initially started a ropeworks business.
Over the years, Mammut has grown into a global clothing giant, and it still produces ropes using advanced techniques that generate significant revenue for the company. In addition to ropes, Mammut offers a wide range of products, including insulated jackets, hardshells, fleece jackets, softshell pants, rain pants, backpacks, and footwear.
The company places a strong emphasis on sustainability and high-quality materials for both clothing and rope production, which aligns with its core values.
Don't miss:
7 Swiss Jacket and Outdoor Clothing Brands: Our Favorites
8 Outdoor Brands like Mammut: Our Best Alternatives
Materials, Fabrics, and Production Process
Mammut places a high priority on sustainability and follows the Bluesign® standard for its product range. The company implements eco-friendly techniques and initiatives and is careful in its production methods.
One such initiative is the recycling of old outdoor equipment, and Mammut is actively trying to eliminate PFCs (perfluorinated and polyfluorinated chemicals). The company also avoids animal cruelty and uses processes that do not harm animals.
This approach is a testament to Mammut's ethical values and dedication to sustainable practices. To reduce its carbon footprint, the company uses environmentally friendly materials for rope production, and its clothing meets the Fair Wear Foundation's criteria.
Some of Mammut's products feature Gore-Tex, an advanced waterproof fabric technology, and the company's dedication to sustainable practices makes it an excellent choice for environmentally-conscious outdoor enthusiasts.
Other materials, textiles, and fabric technologies include polyester, nylon, Mammut DRYtechnology™ waterproof and breathable membrane, Pertex® Quantum® Pro breathable and water-resistant fabric, PrimaLoft® Black synthetic insulation, goose down insulation, and a lot more.
The video will be loaded from YouTube.com, a third party. If you play it, you accept their terms of service, and their use of cookies.
Read also: Mammut vs Patagonia Outdoor Gear: Which is Better?
Where is Mammut outdoor gear made?
Mammut makes most of its outdoor clothing and equipment in Asia, in countries like China, Vietnam, and Bangladesh.
Recommended Products
Mammut Nordwand Advanced HS Hooded Men's Jacket

Image: mammut.com
Check it out at Mammut.com
If you're looking for a versatile jacket for your mountain trips that can help you move more efficiently, the Nordwand Advanced hardshell jacket is a great option. It's made with GORE-TEX® PRO fabric technology and features an innovative cut that makes it lightweight, durable, and breathable.
You can rely on this jacket to protect you from the elements while still allowing for excellent breathability. Plus, it strikes the perfect balance between features, protection, and pack volume. If you want an ideal hardshell for your alpine adventures, the Nordwand Advanced is a top choice.
Mammut Trion Nordwand 28 Backpack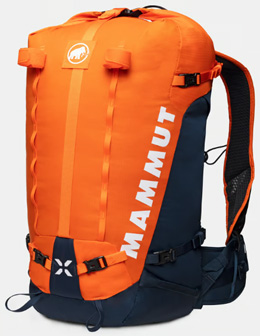 Image: mammut.com
Check it out at Mammut.com
Mammut's Trion Nordwand 28 is a highly durable and versatile alpine backpack in the Eiger Extreme Collection. The backpack is made of high-quality Cordura material, which makes it both lightweight and long-lasting.
Its design is not only focused on durability but also on comfort, with contributions from top athletes like Dani Arnold, Nico Hojac, and Stephan Siegrist. This is ideal for high-performance individuals who demand the best from their gear, whether they're hiking or climbing a mountain.
Prices
Mammut offers a wide selection of products that can accommodate different budgets, making it accessible to a diverse range of consumers. While some products are affordable, others are more costly and feature cutting-edge technology, resulting in high-performance designs.
For example, Mammut's jackets typically range from $200 to $300, but their most advanced designs can cost $900 or more. The company's backpacks range from $70 to $800.
Are Mammut products worth the price?
We think that Mammut's outdoor gear is worth it. This is because the brand has established itself as a reputable manufacturer of high-quality products, thanks to over 150 years of experience in the industry.
The use of advanced technology and premium materials in their manufacturing process is reflected in the higher price tag. We believe that Mammut's products are a valuable investment if you want top performance and long-lasting durability.
Must read: 9 High-End, Expensive Hiking Brands for Clothing and Footwear
3. Which is Better? Haglöfs or Mammut?
Both Haglöfs and Mammut are excellent brands for high-quality outdoor gear. The choice is personal but here are a few things to keep in mind that will help with your decision:
Sustainability: Both brands prioritize sustainability. Haglöfs has ambitious goals of reducing its environmental impact. It aims to cut carbon emissions by 50% by 2030, for example by using renewable materials.
Materials: Both use top-tier fabrics like Gore-Tex. But we think that Mammut relies more on premium materials and innovation.
Price: Mammut gear generally tends to be more expensive, as it focuses on higher-performance designs. Haglöfs has a wider price range from affordable to high-end options.
Manufacturing: Haglöfs produces both in Asia and Europe, while Mammut manufactures mostly in Asia.
Quality: Customer reviews suggest the quality is on par between the brands, with most gear lasting many years with proper care.
Features: Mammut emphasizes cutting-edge technologies used by professional athletes. Haglöfs innovates across various product categories.
In the end, if you're looking for a mix of premium craftsmanship, sustainability practices, and value at different price points, Haglöfs is a great option. If you want a higher-end piece of outdoor gear, our choice would be Mammut.
All in all, both deserve a place in any serious outdoor enthusiast's gear closet.
What do you think of these two brands? Let us know in the comments.