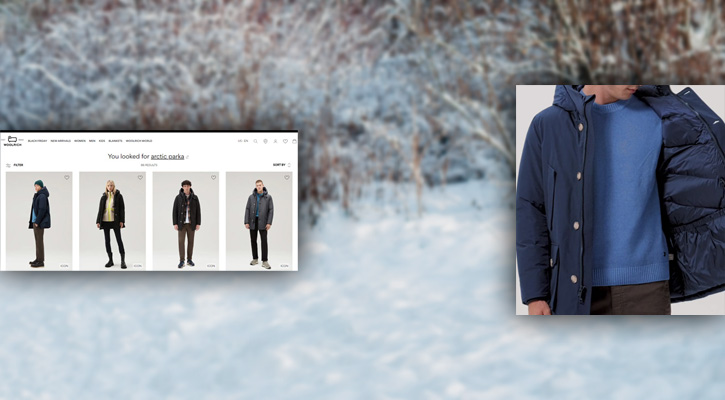 As you bundle up in your warmest winter coat, have you ever wondered why some jackets cost so much more than others?
Woolrich is synonymous with quality outerwear, but their price tags seem to have an extra zero. Are you paying for superior craftsmanship, or is it just a designer name?
To find out if Woolrich coats are worth the investment, we'll take a trip back in time. For over 190 years, this American brand has been battling brutal winters from its Pennsylvania headquarters (now based in Italy).
Through boom and bust economic cycles, two world wars, and changing fashion trends, Woolrich has endured by focusing on function over fleeting styles.
Today their jackets still use premium materials like wool, cotton, and down. But are the traditional techniques and ethical sourcing behind each coat enough to justify prices in the hundreds?
By the end of this article, we'll expose the factors that drive Woolrich's costs so you can decide if their time-tested designs are truly worth the steep price of entry into the cozy club of coat connoisseurs.
Key Takeaways:
Woolrich is an American heritage brand founded in 1830 that is known for its high-quality materials, durable construction, and timeless designs. It's now based in Bologna, Italy.
The brand uses premium materials like wool, cotton, and down that are sourced from trusted suppliers. Its signature Ramar cloth blend is very durable.
Production focuses heavily on details and quality control. Skilled artisans ensure each piece is perfectly made.
Marketing emphasizes collaborations with luxury brands and limited collections to maintain an exclusive image.
Distribution is limited to select retailers to further the premium brand positioning.
While competition has increased, Woolrich differentiates on quality over quantity and positioning as a luxury lifestyle brand.
All the above factors make Woolrich an expensive brand.
Higher prices are also justified by the emphasis on sustainability, ethics, and appeals to customers valuing those principles.
The Arctic Parka is an iconic product by Woolrich.
Woolrich products are made in China, Vietnam, Romania, the USA, Italy, etc.
Is it worth it? We think that the brand continues to deliver exceptional designs and premium quality.
Contents:
1. Woolrich Company History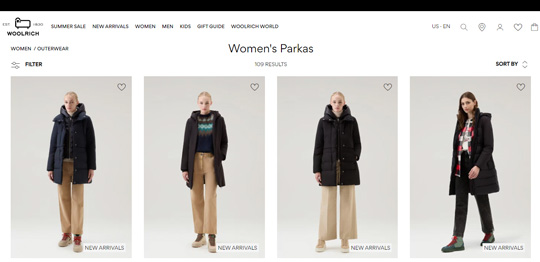 Woolrich women's parkas: woolrich.com
One of the oldest outdoor clothing companies in America can trace its roots back over 190 years. Founded in 1830 in Woolrich, Pennsylvania, the brand initially focused on creating wool fabrics and clothing to keep people warm in the harsh winters.
In the 1850s, they introduced what would become one of their most iconic designs – the Buffalo Check shirt pattern. This innovative shirt style found widespread popularity and remains trendy to this day.
Throughout its long history, the company has been guided by a family, the Rich family, dedicated to serving both their local community as well as the nation. Facing challenges over nearly two centuries, their commitment to quality craftsmanship and cutting-edge designs allowed them to endure as a respected leader in the outdoor apparel industry.
While headquartered for many generations in the small town that shares its name, ownership changes in recent decades led to headquarters relocating overseas, to Bologna, Italy. Today, the brand maintains its heritage of durability and reliability with garments sold primarily in European markets.
Over 190 years after first opening their doors, their time-tested products continue to keep people warm wherever the climate may be.
Don't miss:
8 Brands like Woolrich: Best Alternatives for Winter Jackets
10 Oldest Outdoor Clothing and Gear Brands
2. Materials, Fabrics, and Manufacturing
Woolrich is renowned for its use of premium materials and production methods, resulting in a higher price point. The company sources the finest wool, cotton, and down from trusted suppliers around the world.
The brand is particularly known for its vibrant woolen fabrics and variety of weights, with heavier options commonly used in winter coats.
Woolrich also stands out for its parka jackets, which are made with specially designed Ramar Cloth, a durable blend of 60% cotton and 40% nylon. The jackets are lined with polyester and feature a Teflon-treated shell for added resistance.

Woolrich Men's Arctic Parka in Ramar Cloth: woolrich.com
The manufacturing process at Woolrich is meticulous, resulting in elegant and finely crafted designs. Skilled artisans with years of experience ensure that each product undergoes multiple quality checks before being deemed ready for sale.
In addition to its focus on quality, Woolrich is committed to sustainability. We can mention the company's use of recycled wool in many of its products to reduce waste and environmental impact.
Read also: 10 Best Expensive and Luxury Winter Jacket Brands
3. Product Distribution and Marketing
Woolrich has positioned itself as a luxury brand recognized for its exceptional quality and long-lasting products. The company's marketing strategy targets consumers who appreciate high-quality goods and are willing to invest in them.
Part of Woolrich's marketing approach involves collaborations with other prestigious brands, such as Supreme, and the creation of limited edition collections with Daniëlle Cathari and Aimé Leon Dore.
These partnerships and limited releases generate significant attention and demand, leading to higher product prices.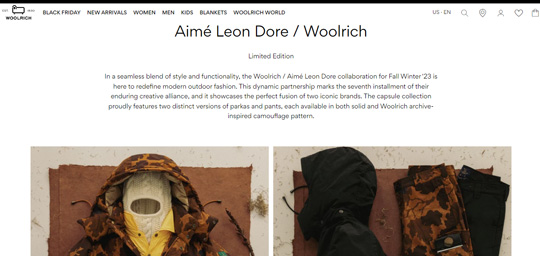 Woolrich / Aimé Leon Dore collaboration: woolrich.com
Woolrich also follows a selective distribution strategy, with only a few retailers authorized to sell its products, maintaining the brand's exclusive image and premium pricing.
Moreover, Woolrich has a robust online presence, offering a diverse range of products and a good shopping experience on its website, along with a strong social media presence.
The company also prioritizes sustainable and ethical practices, which contribute to increased production costs but appeal to those willing to pay more for clothes that align with their values. Woolrich's dedication to sustainability and ethical practices is evident in its marketing campaigns, attracting consumers who prioritize these values.
Read next: 12 Best American Jackets and Outdoor Clothing Brands
4. Market Positioning and Other Competitors
In recent years, Woolrich has encountered heightened competition in the outdoor clothing industry, with the emergence of fast fashion and other brands in the market. Competitors such as Canada Goose, The North Face, Patagonia, Columbia, and Eddie Bauer offer similar products, sometimes at lower prices, posing a challenge for Woolrich to uphold its market standing.
Nevertheless, Woolrich has distinguished itself by prioritizing quality over quantity, earning a reputation for producing enduring clothing suitable for severe, cold weather conditions.
The brand has also established itself as a luxury label, appealing to customers who prioritize quality over cost. The use of premium materials and meticulous attention to detail contribute to its higher price point.
Moreover, Woolrich has broadened its product range to encompass footwear and accessories, solidifying its position as a lifestyle and at times, streetwear brand.
All in all, Woolrich's pricing strategy is significantly influenced by its competition and market positioning. While the brand faces formidable competition, its emphasis on quality and luxury has allowed it to maintain its market position and justify its premium pricing.
Don't miss: 7 Best Italian Down Jacket Brands for Winter
5. Popular Products and Prices
Among Woolrich's most renowned products are the Arctic Parka in Ramar Cloth that we mentioned earlier in the article, a Woolrich classic priced at around $900 or more, and the "Made in the USA" flannels collection, available for approximately $200 to $260 each.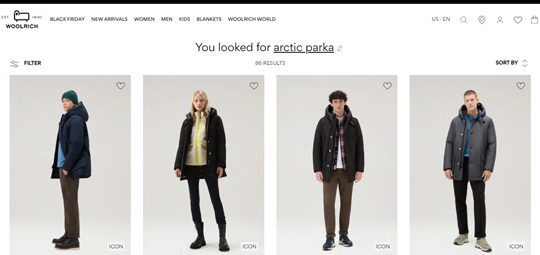 Woolrich Arctic Parka collection: woolrich.com
6. Where are Woolrich Jackets and Clothing Made?
Although Woolrich has built a reputation for manufacturing American clothing in the United States, the majority of its production facilities have now been relocated overseas, with jackets and other apparel being made in countries such as China, Vietnam, Romania, etc.
Nevertheless, at the time of writing, the brand's website still offers a "Made in the USA" flannels collection that we mentioned above.
Also, for enthusiasts of Italian fashion, Woolrich provides various collections of jackets and footwear that are crafted in Italy.
7. Is Woolrich Worth It?
While Woolrich's products may carry a higher price tag compared to many other outdoor clothing brands, the company's dedication to quality, premium materials, sustainability, and ethical manufacturing practices makes them a good investment if you prioritize these values.
Some customers claim that Woolrich has recently compromised its quality while maintaining high prices. Similar complaints have been made about numerous other leading outdoor clothing brands if you read online forums.
We don't know if this is true. But we think that the brand continues to excel in delivering exceptional designs and premium quality.
Let us know what you think in the comments.
Read next:
Why are Moncler Jackets so Expensive? Are They Worth It?
Why is Canada Goose so Expensive and Popular? Is It Worth It?