When it comes to outdoor gear, there are plenty of options to choose from. Two famous names that have caught our attention are the Swiss company, Mammut, and the American, Patagonia.
Both are renowned for their high-quality products and commitment to sustainability. But which brand is better?
In today's article, we'll compare them to help you decide which is the best fit for your outdoor adventures.
From jackets to backpacks, we'll take a closer look at their history, features, materials, and prices. So, whether you're a seasoned hiker or a beginner, read on to find out which brand comes out on top!
Contents:
1. Mammut Outdoor Gear
History of the Brand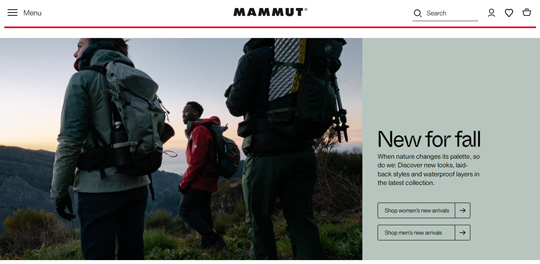 Mammut official website
Mammut, a Swiss-based outdoor clothing and gear brand, has been in operation since 1862 when Kaspar Tanner founded his ropeworks.
Today, Mammut is a global clothing giant that offers a range of products, including jackets, hardshells, fleece jackets, backpacks, softshell pants, footwear, and rain pants.
The company's commitment to sustainability and the use of high-quality materials in both clothing and rope production is a fundamental aspect of its values. Also, Mammut's advanced techniques for rope production have resulted in significant revenue generation for the company.
Don't miss:
8 Outdoor Brands like Mammut: Our Best Alternatives
7 Swiss Jacket and Outdoor Clothing Brands: Our Favorites
Materials, Fabrics, and Production Process
Mammut places great emphasis on sustainability and conforms to the Bluesign® standard for its product line. The company utilizes eco-friendly techniques and procedures and exercises caution in its manufacturing processes.
One of its initiatives involves recycling of used outdoor gear, and Mammut is actively working to eliminate PFCs (perfluorinated and polyfluorinated chemicals). The company also opposes animal cruelty and implements techniques that are harmless to animals.
This ethical approach is a testament to Mammut's values and commitment to sustainable practices. For rope production, the company uses materials with a reduced carbon footprint, and its clothing fulfills the criteria established by the Fair Wear Foundation.
Some of Mammut's products incorporate Gore-Tex, the renowned and top-of-the-line waterproof fabric technology. Mammut's dedication to sustainable practices makes it an excellent option for environmentally-conscious outdoor enthusiasts.
Other fabric technologies and materials include: polyester, nylon, Mammut DRYtechnology™ waterproof and breathable membrane, Pertex® Quantum® Pro breathable and water-resistant fabric, goose down insulation, PrimaLoft® Black synthetic insulation, and many more.
The video will be loaded from YouTube.com, a third party. If you play it, you accept their terms of service, and their use of cookies.
Read also: Mammut vs Arc'teryx Outdoor Gear: A Comparison
Where is Mammut outdoor gear made?
Mammut manufactures most of its outdoor equipment in Asian countries such as Vietnam, China, and Bangladesh.
Recommended Products
Mammut Nordwand Advanced HS Hooded Men's Jacket

Image: mammut.com
Check it out at Mammut.com
The Nordwand Advanced hardshell jacket is an excellent choice for anyone seeking an ideal jacket for their alpine adventures. It is designed with innovative cut and GORE-TEX® PRO fabric technology, making it lightweight, durable, and breathable.
The jacket offers reliable, long-lasting protection from the elements while maintaining excellent breathability, providing the perfect balance of features, protection, and pack volume for your mountain excursions.
Mammut Trion Nordwand 28 Backpack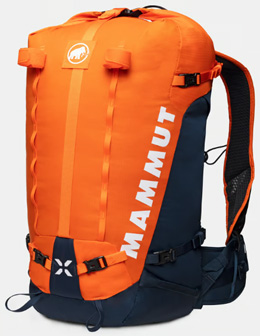 Image: mammut.com
Check it out at Mammut.com
The Trion Nordwand 28 is a durable and versatile alpine backpack from Mammut's Eiger Extreme Collection. It is made from high-quality Cordura material, which makes it lightweight and long-lasting.
This backpack is not only exceptionally comfortable to wear but also designed with input from top athletes, including Dani Arnold, Nico Hojac, and Stephan Siegrist.
The Trion Nordwand 28 is the perfect choice for high-performance individuals who require top-quality equipment for scaling mountains or embarking on challenging hikes.
Prices
Mammut offers a wide selection of products that are suitable for consumers with different budgets, ensuring accessibility for many.
Some of their products are affordable and cater to the average buyer, while others are more expensive and feature advanced technology, resulting in high-performance designs.
For example, Mammut's jackets are priced between $200 and $300 on average, although some of their most technical designs cost $900 or more. The brand's backpacks range in price from $70 to $800.
Are Mammut products worth the price?
Mammut's products are priced higher due to the use of premium materials and advanced technology during manufacturing. The Swiss company, with its 150+ years of experience, has earned a reputation for producing exceptional outdoor gear.
We think that Mammut products are worth the investment because of their high quality and durability, making them a great choice for those looking for high performance.
Must read: 9 High-End, Expensive Hiking Brands for Clothing and Footwear
2. Patagonia Outdoor Gear
History of the Brand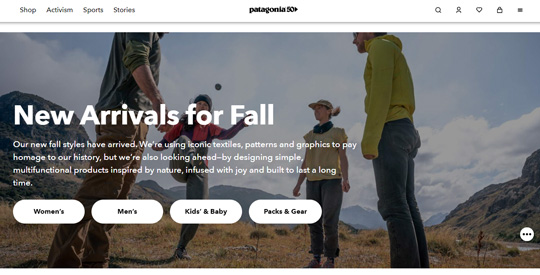 Patagonia official website
The history of Patagonia can be traced back to 1957, when its founder Yvon Chouinard, who was a climber, became interested in blacksmithing.
In that year, he made his first pitons, which he sold to other mountaineers. Later, Chouinard opened a small workshop in Burbank, California, where he made his climbing gear. He would then travel around California to sell these items.
In 1965, Chouinard formed a partnership with Tom Frost, which was the beginning of Chouinard Equipment. In 1973, Chouinard launched Patagonia as a clothing brand after the Chouinard Equipment company split.
Don't miss:
9 Brands Like Patagonia for Sustainable Outdoor Clothing
12 Best American Jackets and Outdoor Clothing Brands
Materials, Fabrics, and Production Process
According to its philosophy, Patagonia believes that every individual's actions have a global impact on others. To this end, the brand uses recycled materials, such as fishing nets, cashmere, wool, polyester, and cotton, to produce its premium clothes.
In addition to these materials, Patagonia also incorporates Nylon and Polyester in their jackets and other gear, along with advanced fabric technologies like H2No and Gore-Tex.
Recycled down is used for insulation against cold weather, and all fabrics undergo rigorous testing before being used in the final product.
Patagonia is well-known in the outdoor community for its focus on sustainability, fair labor practices, and donations to environmental causes. More information about Patagonia's materials can be found on their official website.
Why Waste It? | Powder Bowl
The video will be loaded from YouTube.com, a third party. If you play it, you accept their terms of service, and their use of cookies.
Read also: Patagonia vs Helly Hansen: Which Brand is Better?
Where is Patagonia outdoor gear made?
Patagonia produces the majority of its outdoor gear in countries such as Vietnam, China, Sri Lanka, Thailand, Mexico, and others, while only a small portion is manufactured in the United States.
Recommended Products
Patagonia Triolet Men's Jacket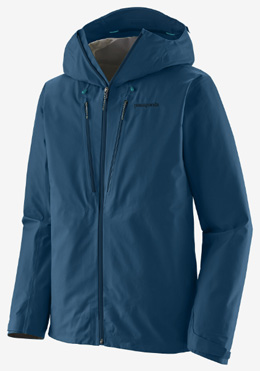 Image: patagonia.com
Check it out at Patagonia.com
The Triolet Jacket for men by Patagonia is designed to withstand harsh winter conditions. It features a 3-layer GORE-TEX fabric that is windproof, waterproof, and breathable. The exterior is made of 100% recycled polyester, making it durable and environmentally friendly.
The jacket is PFC-free and is made in a Fair Trade-certified factory. It comes with a helmet-compatible hood, two chest pockets with watertight zippers, two welted front pockets, and an interior drop-in pocket. The jacket also has two-way pit zips that are watertight and welted, providing additional ventilation.
The dual-adjust drawcord hem effectively seals out weather elements. The jacket has a concealed RECCO® reflector for safety. It's made in Vietnam.
Patagonia Terravia 28L Pack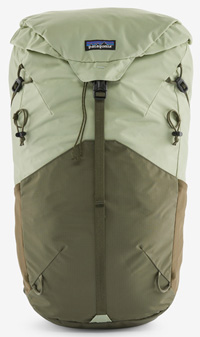 Image: patagonia.com
Check it out at Patagonia.com
The Patagonia Terravia 28L Pack is a multi-functional backpack suitable for day trips or short hikes. It has a 28-liter capacity and is crafted from 100% recycled nylon, which makes it tough and eco-friendly. The backpack has a breathable back panel and shoulder straps, a front-loading stuff pocket, and an automatic lid closure.
The mesh back panel design allows for good ventilation and moisture control, ensuring maximum comfort. The Regulator® airmesh shoulder straps and hip belt provide optimal comfort.
Also, the backpack has side pockets for storing small items and is compatible with hydration packs. It comes with a rain cover and has a zippered lid and internal pockets to keep your objects secure.
Prices
Patagonia is regarded as a high-end brand by many outdoor enthusiasts. The cost of their jackets ranges from $130 to $700, while their backpacks are priced between $70 and $300.
Are Patagonia products worth the price?
In our opinion, the products offered by Patagonia are a good investment due to the brand's dedication to using sustainable materials, promoting environmental protection, and providing durable, high-performance gear.
Learn more: Why Is Patagonia So Expensive and Popular? Are Its Jackets Worth It?
3. Which is Better? Mammut or Patagonia?
Both are great brands for outdoor gear. Here are a few considerations to help you decide:
Mammut is a Swiss brand known for its high-quality mountaineering and climbing gear. They also have everyday, casual, and lifestyle clothing. Their products are very durable and with innovative designs for alpine environments.
Patagonia is an American brand that makes a wide range of outdoor apparel and gear for activities like hiking, climbing, skiing, etc. Their products focus on function, durability, and environmental sustainability. Patagonia gear tends to be more versatile while still holding up well to rugged use.
Mammut is slightly pricier than Patagonia. Both focus on sustainability and use advanced technologies such as Gore-Tex, H2No, Primaloft, etc.
In the end, we think Mammut is great for technical mountaineering and climbing where durability is critical. Patagonia makes good all-around outdoor gear that works well for a variety of activities in different environments.
You can't go wrong with either brand, but we'd pick Mammut for very demanding alpine pursuits while keeping Patagonia for more versatile options. Personal style and fit preferences will also play an important role.
What do you think of these two brands? Let us know in the comments.
Read next: Fjällräven vs Patagonia Outdoor Gear (Which is Better?)