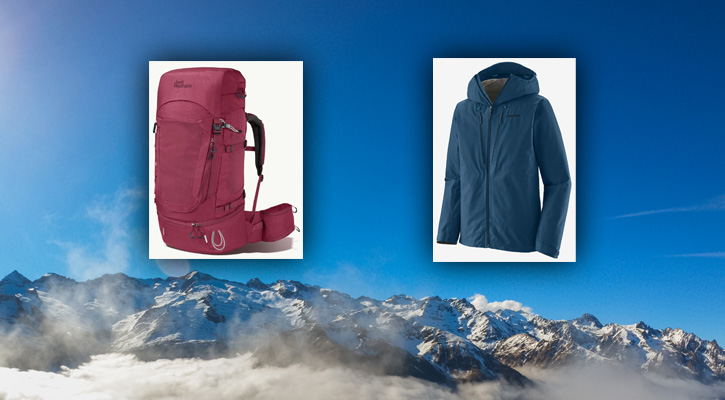 Outdoor enthusiasts have strong opinions when it comes to their gear of choice. And that's why we like doing these comparison articles.
Because not only do we learn a lot about the best outdoor companies, but over time these articles become great places of discussion.
Today, we'll compare Jack Wolfskin and Patagonia. For decades, these powerhouse companies have been pushing each other to new heights of innovation, durability, and environmental stewardship.
We'll put Jack Wolfskin's German engineering against Patagonia's legendary craftsmanship to see which comes on top. We'll explore their histories, sustainability efforts, materials, products, and prices.
Let's begin!
Key Points:
Jack Wolfskin is a German brand born in 1981 offering a wide selection of outdoor gear.
Jack Wolfskin uses its own technologies like Texapore and those from other brands like PrimaLoft. It has a strong focus on sustainability and uses recycled materials. It uses natural (RDS-certified Down) and synthetic materials and fabrics.
Jack Wolfskin makes its products and sources its materials in Asia, Europe, and the USA.
Jack Wolfskin's prices are usually affordable, generally more affordable than those of Patagonia.
Patagonia was founded in 1973 in the USA and was initially focused on climbing gear. It now covers a large list of outdoor activities.
Patagonia believes that people's actions have a global impact and is committed to sustainability and environmental protection.
Patagonia uses recycled polyester, nylon, fabric technologies like H2No and Gore-Tex, down insulation, etc.
Patagonia produces in Vietnam, China, Thailand, Sri Lanka, Mexico, etc., with a small part in the USA.
Patagonia is known as an expensive, premium brand.
Decision: in general, Jack Wolfskin is more for occasional enthusiasts or those just starting out due to its more affordable options. Patagonia is a premium choice for experienced customers requiring specialized equipment who know what they need and can invest more. In the end, quality can be found at either brand.
Contents:
1. Jack Wolfskin Outdoor Gear
History of the Brand

Jack Wolfskin official website
You've probably come across Jack Wolfskin, particularly if you live in Europe. This German company was established in 1981 in Frankfurt by Ulrich Dausien and has been headquartered in Idstein, Germany since 1997.
Over time, due to increasing demand and market share, Jack Wolfskin has evolved into one of the leading outdoor brands in Germany offering a range of products. It is also highly popular in various other European countries.
Presently, the brand provides a diverse selection of gear for different outdoor pursuits, encompassing apparel, footwear, sleeping bags, tents, backpacks, and more.
Jack Wolfskin has long been committed to sustainability, environmental conservation, and social accountability, aligning with numerous other outdoor apparel and equipment brands. This dedication is evident in its offerings, making it a commendable model of a conscientious enterprise.
Both those in search of high-quality casual wear and professionals seeking great outdoor equipment are drawn to the company's style and performance.
Don't miss:
9 German Jackets and Outdoor Clothing Brands that You'll Love
8 German Backpack Brands: Our Favorites
Materials, Fabrics, and Production Process
Jack Wolfskin, as a brand committed to environmental impact, incorporates recycled polyester in its outdoor products whenever possible.
The brand utilizes a range of natural and synthetic materials for insulation, such as RDS-certified Natural Down, Microguard (synthetic), PrimaLoft (synthetic), and Fibercloud (synthetic), to ensure appropriate insulation options for its winter coats and other clothing.
In addition, Jack Wolfskin employs Texapore fabric technology, known for its windproof, breathable, waterproof, water-resistant, and snow-friendly properties, in its jackets and sports apparel.
Texapore is offered in various styles and protection levels for different activities out in nature.
HIDDEN GEMS OF SCOTLAND I WOLFTRAIL I JACK WOLFSKIN
The video will be loaded from YouTube.com, a third party. If you play it, you accept their terms of service, and their use of cookies.
Read also:
Jack Wolfskin vs The North Face Outdoor Gear: A Comparison
Columbia vs Jack Wolfskin: Which is Better?
Where is Jack Wolfskin's outdoor gear made?
Products by Jack Wolfskin are made in both Europe and Asia. Their production facilities are situated across various Asian countries such as China, Bangladesh, Vietnam, and South Korea. Additionally, they have a presence in Germany, Turkey, Slovenia, and Italy within Europe. The sourcing of their raw materials happens in Europe, the United States, and Asian countries. (source)
Recommended Products
Jack Wolfskin Troposphere Men's Insulated Jacket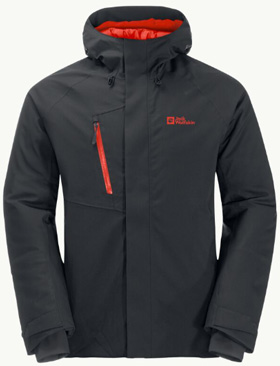 Image: jack-wolfskin.com
Check it out at Jack-Wolfskin.com
The Jack Wolfskin Troposphere is a timeless and simple, yet highly practical and flexible insulated hardshell jacket.
It uses a Texapore Pro fabric renowned for its exceptional windproof, waterproof, and breathable properties, effectively shielding against the elements while facilitating the dissipation of excess heat and moisture, enhancing freedom of movement.
This garment is equipped with PrimaLoft Black Rise fill, a moisture-resistant recycled synthetic fiber insulation that ensures warmth in low temperatures. Its configuration comprises three external pockets and one internal pocket, providing secure storage for small items.
The use of recycled materials shows Jack Wolfskin's commitment to environmental sustainability in manufacturing. Tailored with advanced materials and insulated construction, the Troposphere is engineered for dynamic outdoor usage in chilly and damp conditions.
Jack Wolfskin Highland Trail 50+5 Women's Trekking Pack

Image: jack-wolfskin.com
Check it out at Jack-Wolfskin.com
The Highland Trail 50+5 Backpack is specifically crafted for female adventurers, providing a customized fit and tailored features. Boasting a 50+5 liter capacity, it offers ample storage for extended outdoor excursions.
The backpack incorporates a height-adjustable X-Transition back system, ensuring exceptional comfort, ventilation, and efficient load distribution for enhanced carrying of heavy loads. Its dual-access main compartment facilitates versatile packing and gear access from both the top and front zipper.
Additionally, the long zipper on the lid pocket enables swift access to stored items. An elasticated mesh front pocket serves as a convenient storage space for a jacket. The waist belt includes a dedicated pocket for a water bottle, while the pack is equipped to accommodate a hydration bladder.
Designed with sustainability in mind, this trekking backpack is constructed from recycled materials and is PFC-free and bluesign certified.
Prices
Many items from Jack Wolfskin are affordably priced. This company offers numerous options for budget-conscious consumers to enhance their outdoor clothing and equipment collection.
However, Jack Wolfskin's products are not always low-cost, with their jackets ranging from $60 to $500, backpacks from $50 to $400, and shoes from $60 to $230.
Are Jack Wolfskin products worth the price?
Their gear is worth it in our opinion! Jack Wolfskin is a great option for superior gear at a good quality-to-cost ratio, as they are renowned for their use of top-notch materials and advanced technology.
Must read: 9 High-End, Expensive Hiking Brands for Clothing and Footwear
2. Patagonia Outdoor Gear
History of the Brand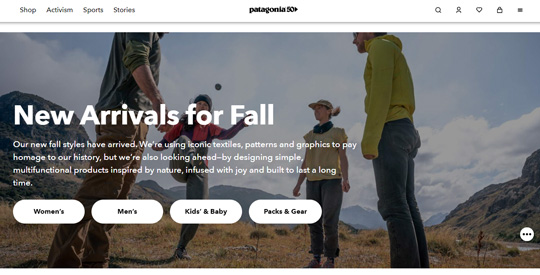 Patagonia official website
The origins of Patagonia can be traced back to 1957 when Yvon Chouinard, a climber and the company's founder, developed an interest in blacksmithing.
In the same year, he crafted his initial pitons, which he marketed to fellow climbers. Later, Chouinard set up a small workshop in Burbank, California, to produce his climbing gear, which he would then distribute by traveling throughout California.
In 1965, a partnership with Tom Frost led to the formation of Chouinard Equipment. Following the separation of Chouinard Equipment, Chouinard established Patagonia as an apparel brand in 1973.
Don't miss:
9 Brands Like Patagonia for Sustainable Outdoor Clothing
12 Best American Jackets and Outdoor Clothing Brands
Materials, Fabrics, and Production Process
Patagonia believes that people have a global impact with their actions. As part of its commitment to sustainability, the brand incorporates recycled materials, including fishing nets, polyester, cashmere, wool, and cotton, into its premium clothing and outdoor gear.
The company also utilizes Nylon and Polyester in its jackets and gear, along with advanced fabric technologies such as H2No and Gore-Tex.
Recycled down is employed for insulation against cold temperatures, and fabrics made with these technologies undergo thorough testing before being used in the final product. For more information on Patagonia's materials, you can refer to their official website.
The company is renowned in the outdoor community for its sustainability efforts, fair labor practices, and contributions to environmental causes which have made it a top choice for many.
Why Waste It? | Powder Bowl
The video will be loaded from YouTube.com, a third party. If you play it, you accept their terms of service, and their use of cookies.
Read also: Patagonia vs Helly Hansen: Which Brand is Better?
Where is Patagonia outdoor gear made?
Patagonia primarily manufactures its outdoor gear in Vietnam, China, Thailand, Sri Lanka, Mexico, and various other nations, with a minority portion produced within the United States.
Recommended Products
Patagonia Triolet Men's Jacket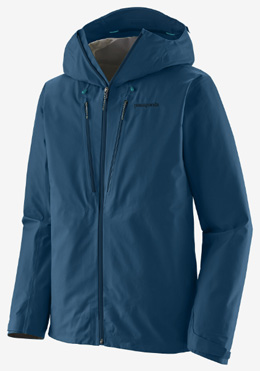 Image: patagonia.com
Check it out at Patagonia.com
The Patagonia Triolet Men's Jacket is intentionally engineered to endure harsh conditions. Constructed from a 3-layer GORE-TEX material, it offers waterproof, breathable, and windproof properties, while its 100% recycled polyester exterior enhances durability.
This garment is PFC-free and is made in a Fair Trade-certified facility. It features a helmet-compatible hood, two welted front pockets, two chest pockets with watertight zippers, and an interior drop-in pocket.
Additionally, it includes welted, watertight two-way pit zips for added ventilation and a dual-adjust drawcord hem to effectively block out the elements. Complete with a concealed RECCO® reflector for searchability, this jacket is produced in Vietnam.
Patagonia Terravia 28L Pack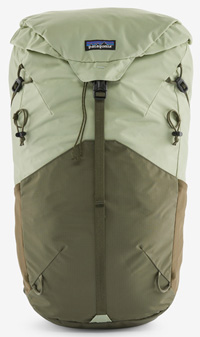 Image: patagonia.com
Check it out at Patagonia.com
The Patagonia Terravia 28L Pack is a versatile backpack suitable for day trips or longer hikes. With a 28-liter capacity, it is made from durable 100% recycled nylon, combining strength with eco-friendliness.
The backpack includes a highly breathable back panel and shoulder straps, a front-loading stuff pocket, and an automatic lid closure. Its suspended mesh back panel design enhances airflow and moisture control for maximum comfort.
The Regulator® airmesh shoulder straps and hip belt ensure a comfortable fit, while easily accessible side pockets and hydration compatibility add convenience. Additionally, it comes with a rain cover, zippered lid, and internal security pockets for safe storage of your belongings.
Prices
Patagonia is widely recognized as a premium brand among outdoor enthusiasts. Their range of jackets typically begins at approximately $130 and extends to $700, while their backpacks are priced between $70 and $300.
Are Patagonia products worth the price?
We are of the opinion that the equipment provided by Patagonia justifies the initial investment. The company is dedicated to using sustainable resources, advocating for environmental preservation, and delivering long-lasting, high-quality gear.
Learn more: Why Is Patagonia So Expensive and Popular? Are Its Jackets Worth It?
3. Which is Better? Jack Wolfskin or Patagonia?
Both are reputable brands that offer high-quality equipment for a large list of outdoor activities. They each have a wide range of clothing, gear, and accessories suitable for various conditions.
Jack Wolfskin is a popular brand among European outdoor enthusiasts, similar to how The North Face is well-known in the United States.
The choice depends on personal factors like intended use, budget, and preferences. But here are a few considerations that we think will help with your decision:
For occasional or less experienced outdoor enthusiasts just starting out, we think Jack Wolfskin is a better fit due to its more affordable options. Their gear gets the job done without unnecessary extras.
On the other hand, serious participants planning extended trips in demanding conditions will likely invest in Patagonia. This brand is known for durable, specialized products for intensive use.
Customers just exploring new activities on casual day trips near home likely won't spend a lot initially. Jack Wolfskin allows trying different sports without a large investment.
But experienced enthusiasts and professionals will want high-performing gear capable of withstanding repeated use in remote areas. They won't mind investing more in Patagonia products with such attributes.
Other considerations include each company's history, marketing approach, and stance on environmental issues. But in general, reasonable quality can be found at either brand, depending on your needs and budget.
What do you think? Let us know in the comments!
Read next: Mammut vs Patagonia Outdoor Gear: Which is Better?