Sometimes you just can't decide between two famous brands of outdoor gear. This can be the case with RAB and Haglöfs.
Founded in 1981 and 1914 respectively, RAB, a British brand, and Haglöfs, a Swedish brand, are both well-established names in the outdoor industry.
Rab is known for its high-quality climbing and mountaineering gear and has stellar reviews from outdoor enthusiasts, while Haglöfs is another popular brand, especially in Scandinavia.
Today, we'll examine the histories, materials, prices, and main products of both companies to determine which is the better choice and when.
Let's get started!
Key Points:
Haglöfs was founded in Sweden in 1914. It offers hiking, skiing, mountaineering, and lifestyle gear.
Haglöfs is committed to sustainability, reducing carbon footprint, and using sustainable materials.
Haglöfs materials: Nylon and Polyester (some of it recycled), Organic cotton, RDS down insulation, Mimic synthetic insulation, Gore-Tex membranes, etc.
Haglöfs makes its products in Asia and Europe.
Haglöfs is priced in the mid-to-high range.
RAB was founded in England in 1981. It offers hiking, skiing, mountaineering, running, and cycling gear.
RAB is committed to eco-friendly production methods and uses recycled materials.
RAB materials: Nylon and Polyester (some of it recycled); Gore-Tex, Pertex Shield, and Proflex membranes; natural down and synthetic insulation (Stratus and Cirrus); etc.
RAB makes its products in the UK and Asia.
RAB is priced in the mid-to-high range.
Decision: both offer similar quality. It will depend on the specific piece of gear. Our preference: RAB for mountain activities.
1. Haglöfs Outdoor Gear
History of the Brand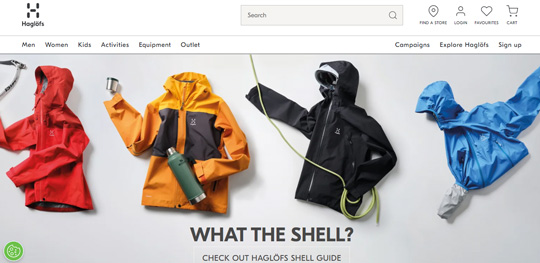 Haglöfs official website
In 1914, a carpenter named Wiktor Haglöf established the Haglöfs brand in Sweden with the objective of producing a backpack that could endure any situation during journeys across the country.
The company has since expanded and broadened its product range, persistently endeavoring to create fresh standards in craftsmanship.
Haglöfs is committed to safeguarding the natural environment for future generations. The brand advocates for the exploration of the outdoors, both physically and mentally, and is certain that all people can experience nature, irrespective of the climate, weather conditions, and experience level.
Don't miss:
9 Swedish Outdoor Clothing and Jackets Brands: Our Favorites
7 Backpack Brands from Sweden: Our Favorites
Materials, Fabrics, and Production Process
Haglöfs has set a target of reducing its carbon footprint by 50% by 2030. To achieve this, the company is utilizing sustainable materials, renewable energy, and improving energy efficiency. They are also engaging with customers to reduce their impact.
The brand uses recycled and natural materials like organic cotton, hemp, and lyocell/tencel to create eco-friendly products for outdoor activities and sports. Also, Haglöfs is implementing low-impact dyeing techniques and reducing plastic bag usage.
The company is dedicated to responsible chemical, water, and energy management in its factories, and uses the Higg Index to assess product sustainability throughout its lifecycle.
Haglöfs ensures that all animal-based materials are sourced from suppliers that follow best practices for animal welfare and ecosystem and biodiversity protection. Their natural down insulation is certified by the Responsible Down Standard (RDS) to prevent bad treatment of birds in the supply chain.
The brand also incorporates various technologies like Recycled Polyamide (Nylon), Recycled Polyester, Mimic PLATINUM Ultracluster Graphene insulation, and GORE-TEX membranes, among others, in their products for protection, warmth, and breathability.
Haglöfs L.I.M - As Light as We Can Go
The video will be loaded from YouTube.com, a third party. If you play it, you accept their terms of service, and their use of cookies.
Read also: Haglöfs vs Arc'teryx Outdoor Gear: Which Brand is Better?
Where is Haglöfs outdoor gear made?
Haglöfs outdoor products are mainly produced in Asia, in countries such as China and Vietnam, and in European nations such as Poland and Romania. The company's dedication to superior quality standards has helped increase its popularity in various countries, particularly in Scandinavia.
Recommended Products
Haglöfs L.I.M GTX Active Men's Jacket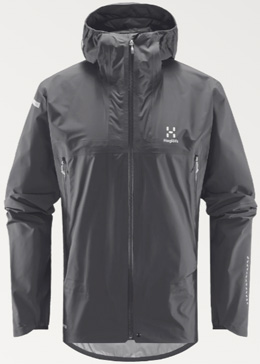 Image: haglofs.com
Check it out at Haglofs.com
The lightweight technical shell of the L.I.M GTX Active Jacket is ideal for summer activities, offering weather protection, breathability, and comfort.
The jacket features a durable mix of GORE-TEX Active 3-layer and GORE-TEX Paclite® Plus 2.5-layer fabric, an adjustable hood, an athletic fit, elastic cuffs and bottom hem for improved fit, reflective trims for safety, and two zippered hand pockets with mesh ventilation.
It is recommended for trekking, camping, and hiking and can be easily machine-washed.
Haglöfs L.I.M 35 Hiking Backpack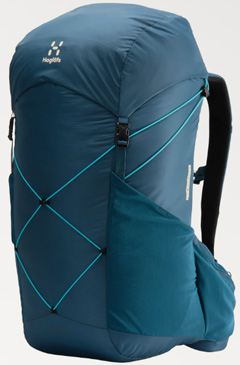 Image: haglofs.com
Check it out at Haglofs.com
The lightweight Haglöfs L.I.M 35 Hiking Backpack is specially designed for hiking and trekking, weighing only 920 grams with a volume of 35 liters. The backpack boasts an Airback suspension system that provides comfort during intense activities by allowing ventilation and airflow through the back contact zone.
It also has elastic side pockets, zippered elastic hip belt pockets, and an elastic cord for compression and gear attachment. The backpack is compatible with hydration systems and features a fixed top lid with a pocket, an adjustable sternum strap, a padded hip belt, and load lifters.
It's made from bluesign®-approved 70D*140D Diamond Rip-stop Polyamide.
Prices
Haglöfs products are typically priced in the mid-to-high range. For instance, their jackets range from $100 to over $600 for the most advanced models, while their bags and backpacks start at $60 and go up to $300.
Are Haglöfs products worth the price?
We think that this brand is worth investing in due to its numerous sustainable and innovative technologies and its very wide collection of outdoor clothing and gear.
Read next: 9 High-End, Expensive Hiking Brands for Clothing and Footwear
2. RAB Outdoor Gear
History of the Brand

RAB official website
The history of RAB dates back to 1981, when Rab Carrington, a well-known Scottish climber, founded the brand in Sheffield, South Yorkshire, England, naming it after himself.
Carrington's passion for nature, adventure, and climbing had already established him as a prominent mountaineer among his peers. During a UK strike in 1973, Carrington found himself stranded in Buenos Aires without equipment and began making his own sleeping bags with the help of his friend Hector Vieytes, who taught him how to create high-quality products.
This experience inspired Carrington to establish RAB, a company that prides itself on being "by climbers for climbers." Over the years, RAB has developed many iconic products that have become favorites among mountaineers and climbers.
In 2001, the brand partnered with Polartec, whose materials are still used in RAB gear today. Since 2003, RAB has been owned by Equip Outdoor Technologies Ltd, which has maintained the brand's philosophy of designing world-famous jackets like the Microlight Alpine, earning RAB a reputation as one of Europe's top providers of specialist outdoor equipment and clothing.
Don't miss:
7 Brands like RAB for Outdoor Adventures
8 British Outdoor Clothing Brands that You'll Love
Materials, Fabrics, and Production Process
Rab makes considerable efforts each year to transition towards eco-friendly production methods, such as sourcing materials ethically and utilizing PFC-free water-repellent treatments. The brand is committed to producing long-lasting products and employs the use of recycled materials.
Although polyester and nylon are Rab's primary materials, nylon is more frequently used in their gear. Winter weather calls for waterproof outerwear, and Rab employs various fabric technologies, such as Gore-Tex, Pertex Shield, Proflex, and Pertex Shield+, to keep you dry.
These waterproof fabrics are available in three different constructions, 2, 2.5, and 3 layers, depending on their intended use.
Rab uses Hydrophilic and Microporous technologies for breathability, both of which function as moisture-wicking technologies.
Rab offers a wide selection of both natural down and synthetic insulated jackets and sleeping bags. The natural down is responsibly sourced, and the brand has created a line of jackets with 100% recycled fabrics and down insulation.
Synthetic insulation, such as Stratus and Cirrus, is widely used due to its advantages over natural down.
Rab Microlight Alpine Jacket | Masters of Insulation
The video will be loaded from YouTube.com, a third party. If you play it, you accept their terms of service, and their use of cookies.
Read also: RAB vs Patagonia Outdoor Equipment: A Comparison
Where is RAB outdoor gear made?
Rab's outdoor gear is produced in two locations: partly in the United Kingdom, where the company is headquartered, and partly in Asia, with the majority being manufactured in China.
Recommended Products
RAB Men's Microlight Alpine Down Jacket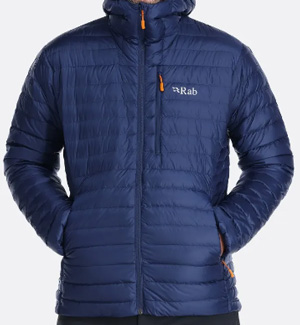 Image: rab.equipment
Check it out at rab.equipment
The Microlight Alpine is a winter jacket that is designed to be lightweight and warm. It is filled with 700 fill-power hydrophobic down, which makes it resistant to water in wet conditions. The jacket's shell is made of Pertex Quantum technology, which makes it durable and breathable, making it suitable for a wide range of activities.
The jacket has two hand pockets and a chest pocket on the outside, one of which is suitable for use with a harness. It is available in both men's and women's sizes and is highly compressible for easy transportation.
RAB Aeon 35L Daypack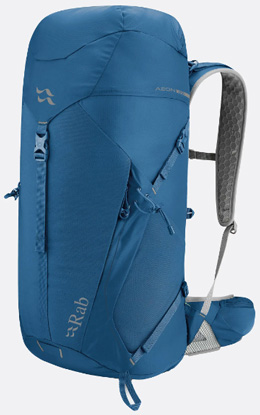 Image: rab.equipment
Check it out at rab.equipment
The RAB Aeon 35L Daypack is a versatile backpack that is perfect for various mountain expeditions. It features the Air Contour X carrying system, which provides a secure fit and can bear heavy loads while maintaining stability on difficult trails.
The back panel is semi-rigid and vacuum-molded to promote airflow and conform to your body shape. The wrap-around stretch yoke is comfortable on the shoulders, and the back length and forward pull hip belt can be adjusted for a personalized fit.
With a 35-liter capacity, it is an excellent option for camping, hiking, etc. Also, it has two TipGripper walking pole attachments, a walking axe loop, and easily accessible stretch pockets for storing equipment.
The hip belt pockets are zippered and can hold small items like food or a compass. This daypack is made from 50% recycled nylon fabric and comes with a rain cover to protect against all weather conditions.
Prices
Rab is another brand that falls within the mid-to-high range in terms of pricing. While not the most affordable, it is also not among the most expensive brands we have encountered.
For example, the brand's line of jackets ranges from around $80 for windbreakers and lighter styles to as much as $850 for down jackets and technical designs. Similarly, the cost of Rab's backpacks can vary depending on the design, with prices ranging from $60 to $250.
Finally, other equipment and accessories offered by Rab are available at a wide range of prices.
Are RAB products worth the price?
Rab is recognized for creating durable and high-quality products. So, our answer is "Yes". But it obviously depends on what you expect from that product.
3. Which is Better? Haglöfs or RAB?
Both brands offer high-quality products and the prices are quite similar with both placed in the mid-to-high range.
Here are a few considerations to help you decide between the two:
Haglöfs is suited for eco-conscious customers who enjoy outdoor activities. With its large collection, it's difficult to not find what you need at Haglöfs. It has casual outdoor clothing as well as technical pieces!
RAB has always identified with its "for climbers by climbers" image, so it's ideal for climbers and mountaineers looking for high-quality gear. It has great insulation technologies and its sleeping bags are some of the best. It uses recycled materials too.
In the end, it will depend on the specific jacket or piece of gear. Does it use Gore-Tex? Do you need Gore-Tex? What type of insulation, down or synthetic? Does it have ventilation zips? What type of seams? Where you'll be going to use it? And so on…
These brands offer similar quality in general so it's not a clear-cut answer. We can only give you our personal preference which is RAB for mountain activities.
Let us know in the comments what you think.
Read next:
Haglöfs vs Fjällräven Outdoor Gear: A Comparison
Haglöfs vs Helly Hansen: Which is Better for Outdoor Gear?