There's nothing better than a high-quality winter jacket or parka to keep you warm while being outside in winter.
Woolrich is a popular brand for winter jackets. You most likely already know their quality, warm parkas.
But if you want more options, there are many other alternative brands that offer exceptional quality and style. This will be the focus of today's article.
We have selected 8 brands like Woolrich that provide similar performance, product range, and prices.
We'll explore Canada Goose which has been making outerwear for extreme weather since 1957, Triple F.A.T. Goose – an American brand, Helly Hansen, Fjällräven, and many other companies that also offer excellent winter jackets.
Each of these brands has its unique selling points, including sustainable practices, innovative fabric technologies, and comfort-focused designs.
So, let's begin!
Contents:
1. Canada Goose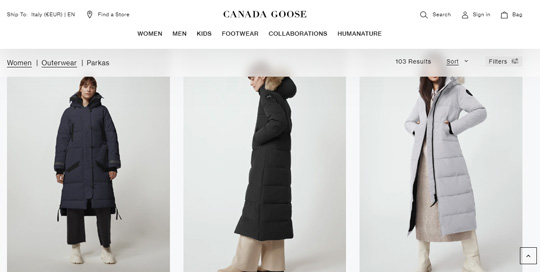 Canada Goose women's parkas: official website
Canada Goose is a brand from Canada that specializes in producing high-quality outerwear for extreme weather since 1957. The company has also established retail locations in other countries, as well as an online shop.
Their products include parkas, jackets, down coats, and accessories for women, men, and kids, all made from superior materials such as Duck Down and Goose Down. These products are made to resist cold winters such as those of Canada.
Canada Goose products are known for their fashionable designs, making them popular among both fashion enthusiasts and outdoor lovers. The brand has gained global recognition, with its iconic logo serving as a status symbol.
One of the most highly sought-after products from Canada Goose is the Expedition Parka, specifically designed to provide warmth in extreme temperatures. The parka is made from durable, water and wind-resistant fabric, and features warm down insulation, protecting you in temperatures as low as -30°C (-22°F). The price range for Canada Goose winter jackets is typically between $1000 and $2000.
Canada Goose is also focused on ethical and sustainable practices. The company gets its natural down insulation from responsible sources and ensures that it's fully traceable. Canada Goose has also partnered with conservation organizations, such as Polar Bears International, to support conservation efforts.
Don't miss:
Why is Canada Goose so Expensive and Popular? Is It Worth It?
10 Best Expensive and Luxury Winter Jacket Brands
2. Parajumpers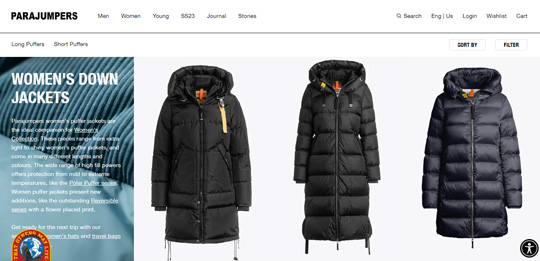 Parajumpers women's down jackets: official website
Parajumpers is a modern Italian brand that came into existence in 2005. It is known for creating exceptional outerwear that is both functional and stylish.
The designer of the brand, Massimo Rossetti, was inspired to create highly practical jackets made of sturdy nylon after meeting a member of the 210th Rescue Squadron in Anchorage, Alaska. These jackets are built to withstand the toughest of conditions and serve as an aid rather than just another piece of clothing.
The brand's philosophy is inspired by this military unit, which is also reflected in its name, "Parajumpers". The price range of the jackets varies from approximately $300 to $600.
Related: 7 Best Italian Down Jacket Brands for Winter
3. Triple F.A.T. Goose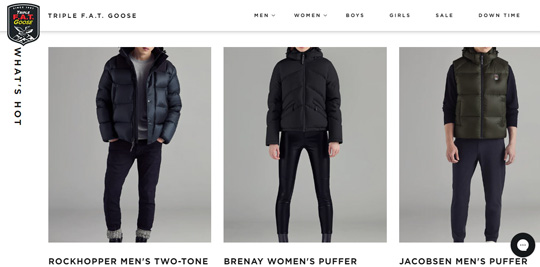 Triple F.A.T. Goose official website
Triple F.A.T. Goose, which stands for "For Arctic Temperatures," has been dedicated to creating high-quality jackets since 1987. This US-based company is focused on providing exceptional warmth, with a special emphasis on down insulation.
They know that every individual has distinct needs, and as such, require jackets that cater to their specific requirements. Despite being a high-end brand, Triple F.A.T. Goose's coats and jackets are reasonably priced when compared to other brands in the same market, with price tags ranging from $300 to $800.
Read also: 12 Best American Jackets and Outdoor Clothing Brands
4. Filson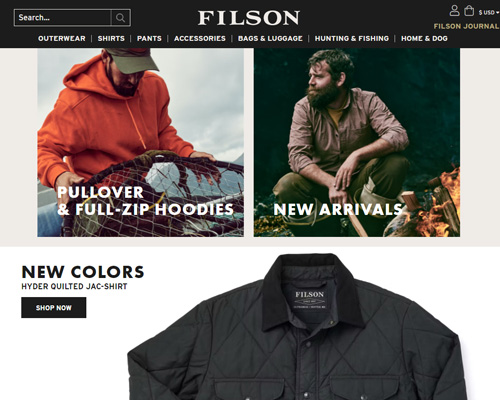 Filson official website
Filson was born in 1897 in the United States. The company produces clothing, accessories, and shoes for all. They also offer outerwear for dogs.
Initially, the founder, C. C. Filson, named the company "CC Filson's Pioneer Alaska Clothing and Blanket Manufacturers". Today, the brand is recognized worldwide for the high quality and comfort of its products.
Filson's winter jackets and other designs provide warmth and protection and the company prioritizes customer satisfaction by offering various designs.
Many of their products are waterproof and durable, and the fabrics are highly sought after. Each garment is versatile and features numerous pockets for carrying essential items during the day.
Filson's winter jackets are warm yet lightweight, allowing for ease of movement. The company values sustainability and uses recycled materials in a significant portion of its clothing. They also prioritize environmental conservation in the manufacturing process.
Read next:
Brands like Filson: Our 10 Best Alternatives
10 Oldest Outdoor Clothing and Gear Brands
5. Orvis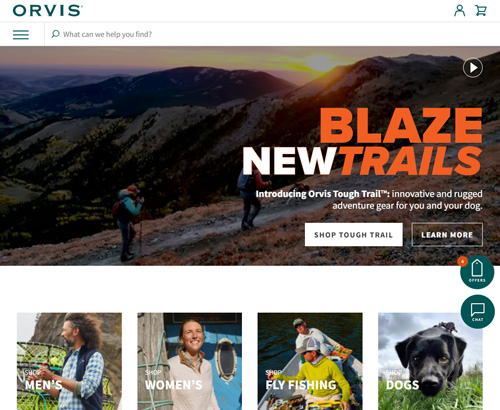 Orvis official website
Orvis is a famous name from the USA that produces not only accessories and casual wear but also outdoor clothing that is highly valued by its customers.
The company was founded by Charles F. Orvis in Manchester, Vermont in 1856 and initially focused on producing fishing gear before diversifying into outdoor products.
Orvis maintains a strong commitment to environmental protection, including recycling and dedicating a portion of its profits to this cause. One of the main features of Orvis is its ability to provide excellent protection from bad weather.
Don't miss:
10 Brands like Orvis: Top Alternatives for Outdoor Adventures
8 Best Sustainable Outdoor Clothing Brands: Our Top Picks
6. Helly Hansen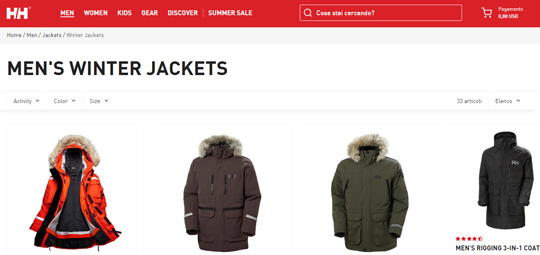 Helly Hansen men's winter jackets: official website
Helly Hansen is renowned for its completely waterproof garments and for its jackets that are not only breathable and functional but also very comfortable.
Despite being able to keep you warm and shield you from the most severe cold, these jackets are also relatively lightweight.
Established by Helly Juell Hansen, a sea captain, in Norway in 1877, the company initially manufactured equipment for sailors before shifting its focus to outdoor clothing, including outerwear for mountain sports and activities.
Helly Hansen has also introduced several fabric technologies to the outdoor clothing industry, such as Helly Tech, which makes its jackets waterproof and breathable, perfect for winter outdoor activities. The prices of their jackets range from $150 to $2000.
Related:
Why is Helly Hansen so Expensive and Popular: Is It Worth It?
10 Norwegian Jackets and Clothing Brands that You'll Love
7. Pajar Canada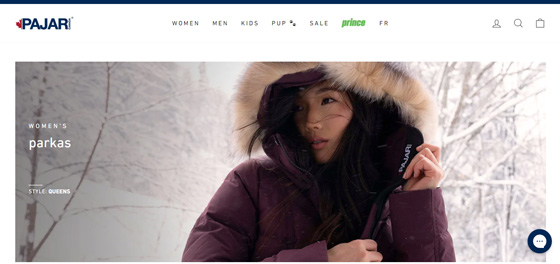 Pajar Canada official website
Pajar Canada was established in 1963 in Montreal, Quebec, Canada by Paul Golbert. This family-owned company specializes in clothing and footwear, with a strong focus on providing maximum comfort to their customers, regardless of the weather.
Pajar Canada offers a diverse range of products that offer great protection from difficult weather conditions. Their clothing items and jackets are not only comfortable but also boast unique and original designs. The cost of their jackets and parkas ranges from $500 to $2000.
Read also: 13 Scandinavian Winter Jackets and Clothing Brands
8. Fjällräven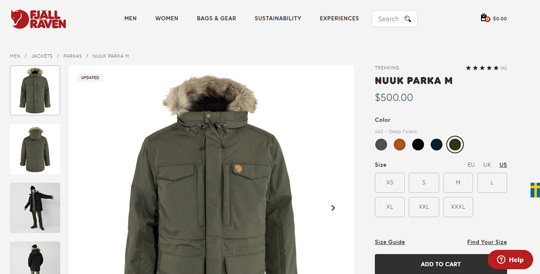 Fjällräven Men's Nuuk Parka: official website
Fjällräven is a renowned company that specializes in crafting high-quality outdoor clothing, accessories, and equipment. It's a Swedish brand that was established in 1960 by Åke Nordin.
It has since gained global recognition for its unique designs for both men and women. The company's focus is centered on the pursuit of excellence in craftsmanship and the use of premium materials, all while promoting access to nature.
As such, each Fjällräven item is designed to be both functional and comfortable. One of their most famous products is the Expedition Parka, which is available in different versions and costs around $600.
Read next:
Is Fjällräven Ethical and Sustainable?
9 Swedish Outdoor Clothing and Jackets Brands: Our Favorites