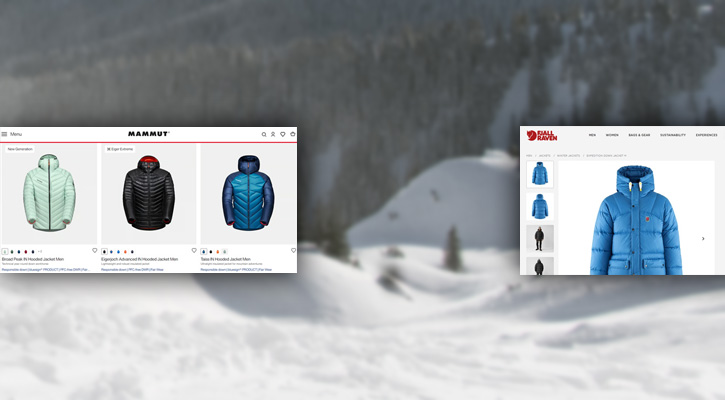 As the winter winds begin to howl and temperatures plunge, it's time to bundle up in the best protection available. When the elements want to steal your body's warmth, you'll want a winter coat that's a worthy adversary.
For decades, European brands have been developing innovative technologies and sleek designs to battle even the fiercest frosts. They understand that fashion and function can peacefully coexist in subzero climates.
In today's article, we'll explore 10 elite European makers of down and puffer jackets that elevate winter style while safeguarding you from the cold season's surprises.
From the iconic Italian brand Moncler to the pioneering Norwegian company Norrøna, these brands have established themselves as leaders in the industry, offering a blend of style, functionality, and sustainability.
These companies are redefining winter wear for adventurers and fashion-conscious individuals alike.
Let's get to know them better!
Contents:
1. Moncler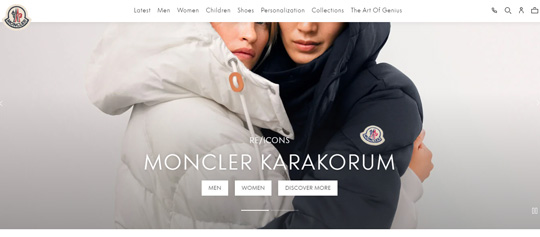 Moncler official website
The renowned fashion brand Moncler was established in France in 1952 and is currently headquartered in Italy. The company specializes in crafting high-end outdoor apparel, particularly its signature down jackets known for their warmth and cold weather protection.
Moncler's offerings are crafted from premium materials that seamlessly blend style and utility, making them a sought-after option for trend-conscious individuals and celebrities, whether for urban exploration or winter sports.
In recent times, Moncler has expanded its range to encompass diverse outdoor clothing and gear, catering to adventurers and enthusiasts worldwide.
Moncler is also committed to advancing sustainability by utilizing eco-friendly materials and production techniques, along with undertaking initiatives to minimize their environmental impact.
The brand's jackets are celebrated for their glossy, luxurious feel and are on the expensive side, priced within the range of $700 to $5000.
Don't miss:
Why are Moncler Jackets so Expensive? Are They Worth It?
9 Jacket Brands like Moncler: Best Alternatives for Winter
7 Best Italian Down Jacket Brands for Winter
2. Helly Hansen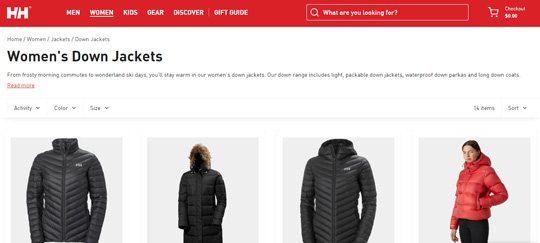 Helly Hansen official website: Women's down jackets
Helly Hansen, a brand established in 1877 by Norwegian sea captain Helly Juell Hansen, specializes in outdoor clothing for activities such as sailing, mountaineering, hiking, skiing, and expeditions. The brand also offers casual wear.
Their down jackets prioritize both performance and aesthetics, featuring adjustable hems and hoods for protection, high-fill-power down insulation certified by the Responsible Down Standard, and safety-enhancing details like fold-up reflectives.
Additionally, the jackets are often bluesign® certified, incorporate sustainable materials, and are PFC-free, while also including features like YKK zippers, hand pockets, and the HH® logo.
Related:
Why is Helly Hansen so Expensive and Popular: Is It Worth It?
9 Brands like Helly Hansen: Our Top Alternatives
3. Fjällräven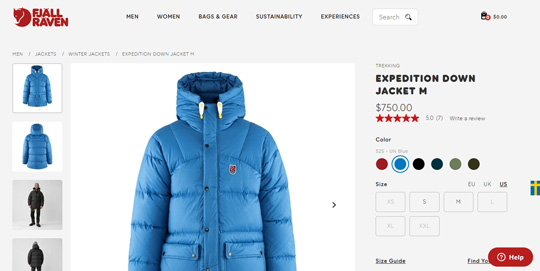 Fjällräven Expedition Mens Down Jacket: official website
Fjällräven, a well-known Swedish brand globally recognized for its innovative outdoor gear and apparel, was established in 1960 by Åke Nordin. The company's primary emphasis is on producing premium equipment and accessories using high-quality materials.
The brand's design philosophy centers around nature, with each product meticulously crafted to prioritize functionality and comfort, thus enhancing outdoor experiences. Also, Fjällräven places a strong emphasis on sustainability, striving to promote environmental responsibility through the creation of durable, long-lasting products.
With over 60 years of industry experience, Fjällräven has established a solid reputation for maintaining high standards. The men's and women's collections exemplify the company's expertise in developing well-designed, high-performance apparel and equipment renowned for their durability.
The brand remains committed to empowering outdoor enthusiasts through specialized gear that is optimized for both form and function.
One of Fjällräven's standout products is the Expedition Down Jacket, a popular puffer jacket introduced in 1974. This iconic winter jacket, filled with goose down and available in multiple versions, is priced at around $750.
Read also:
Is Fjällräven Ethical and Sustainable?
Fjällräven vs Helly Hansen (Side-by-Side Comparison)
4. RAB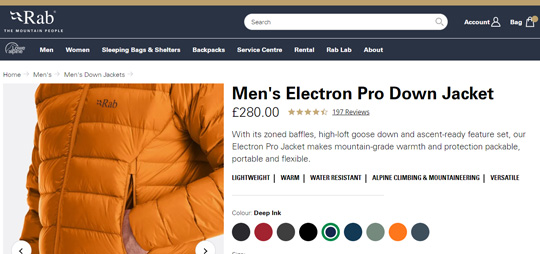 RAB Men's Electron Pro Down Jacket: official website
RAB is a UK-based brand established in 1981 in Sheffield, South Yorkshire, England by Rab Carrington, an experienced climber and mountaineer. It gained popularity within the local mountaineering community with its initial product, a sleeping bag.
Presently, RAB specializes in high-end mountain products for both men and women, encompassing clothing, jackets, backpacks, sleeping bags, and accessories.
Renowned for its top-notch down insulation jackets, RAB offers a diverse range of styles suitable for various winter activities, from ultralight hiking jackets to expedition-grade coats. Their down jackets deliver exceptional warmth-to-weight performance, leveraging advanced technologies and high loft down fill.
The collection includes breathable and protective options, albeit at premium prices.
Read next:
7 Brands like RAB for Outdoor Adventures
8 British Jackets and Outdoor Clothing Brands that You'll Love
5. Mammut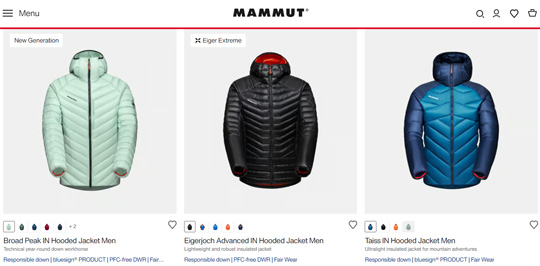 Mammut official website: Down jackets
Mammut, a well-established outdoor gear company headquartered in Switzerland, has a rich history dating back over a century.
Initially focusing on rope manufacturing when it was founded in 1862 by Kaspar Tanner, the company has since diversified its product line to cater to a wide range of outdoor pursuits including camping, skiing, hiking, and mountain sports.
Mammut's offerings encompass both casual and technical apparel, equipment, and footwear, making them suitable for various activities. While their products may cater more to serious outdoor enthusiasts due to their higher price range, Mammut has built a strong reputation for its state-of-the-art designs and technologies that deliver exceptional performance.
Their winter jackets, available in various styles such as parkas and puffers, utilize cutting-edge fabrics and fill innovations like Gore-Tex, Pertex Quantum, and PrimaLoft to ensure warmth and protection in cold conditions. With over 160 years of experience, Mammut remains dedicated to innovation and equipping adventurers.
Don't miss:
8 Outdoor Brands like Mammut: Our Best Alternatives
7 Swiss Jacket and Outdoor Clothing Brands: Our Favorites
6. Jack Wolfskin

Jack Wolfskin official website
Jack Wolfskin, a well-regarded German outdoor clothing brand, has its roots in the early 1980s. The company has built a strong reputation in the activewear sector over the years.
Their collection showcases well-crafted garments made from sturdy materials suitable for various outdoor pursuits.
Jack Wolfskin's range of winter jackets caters to individuals of all ages and genders, offering options from lightweight rain shells to insulated parkas and puffer jackets, ensuring protection and style for diverse winter activities and weather conditions.
With a rich history of equipping adventurers, the brand's products reflect its dedication to reliable and enduring design. The prices are affordable when compared to similar brands.
Related: 9 German Jackets and Outdoor Clothing Brands that You'll Love
7. Millet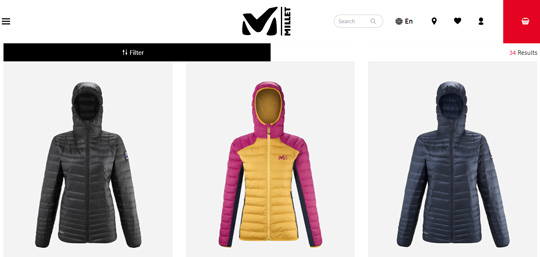 Millet official website: Women's down jackets
Founded in 1921 in Saint-Fons, near Lyon, France, Millet is a well-known manufacturer of durable mountain gear, clothing, and footwear.
Established by Marc Millet and his partner, the company creates resilient pieces that endure extreme weather such as wind, rain, and freezing temperatures. Sustainability is a fundamental principle, and materials undergo thorough evaluation.
Millet's outerwear excels in shielding against the elements while ensuring comfort and mobility on rugged terrain. Highly esteemed by outdoor enthusiasts, the brand is renowned for its superior craftsmanship.
Utilizing only top-tier fabrics and cutting-edge innovations, the brand's products command premium prices, with some jackets priced over $200. Nonetheless, enthusiasts value their high-quality construction that suits demanding activities in nature's toughest environments.
Even after a century of outfitting adventures, Millet still has something to say when it comes to quality and performance.
Read also: 8 French Jackets and Outdoor Clothing Brands: Our Favorites
8. 66°North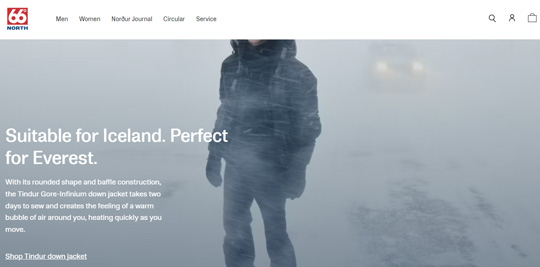 66°North official website
66° North, an Iceland-based company, has its roots in 1926 when it was established by Hans Kristjánsson. It initially specialized in creating durable clothing for fishermen who faced harsh seas and weather conditions. Over time, the company expanded its product range while upholding its reputation for resilient designs.
One of its standout products is the acclaimed Snaefell jacket, which showcases the brand's expertise. Known for its practicality in various outdoor pursuits, 66° North serves both professionals and enthusiasts with its high-quality jackets.
The company also prioritizes sustainability in its operations, including responsible sourcing of materials and European manufacturing, including limited lines crafted by hand in Iceland. As a leading brand in Icelandic outdoor apparel, 66° North continues to provide gear for individuals challenging nature's elements.
Read next: 8 Icelandic Outdoor Clothing Brands: Our Top Picks
9. Haglöfs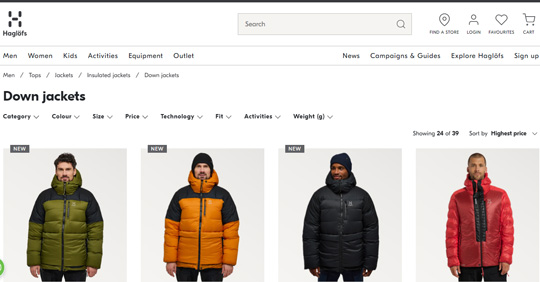 Haglöfs official website: Men's down jackets
Established in Sweden in 1914 by Wiktor Haglöf, the Haglöfs company holds a profound appreciation for the beauty of nature. Wiktor's goal was to create sturdy, reliable gear, starting with a resilient backpack and later expanding to durable clothing.
Currently specializing in a wide range of gear and accessories, Haglöfs caters to individuals of all ages and genders. Their product line includes items for camping, trekking, snow sports, workwear, and more. The jackets feature environmentally conscious yet durable fabrics designed for challenging conditions.
Emphasizing superior quality, the materials undergo rigorous testing to ensure longevity. Although the prices range from $150 to $600, which is expensive for most people, enthusiasts value the premium craftsmanship suitable for demanding activities.
Today, Haglöfs remains committed to developing solutions that empower both casual and technical adventures in the great outdoors.
Don't miss:
Haglöfs vs RAB: Which is Better for Outdoor Gear?
9 Swedish Outdoor Clothing and Jackets Brands: Our Favorites
10. Norrøna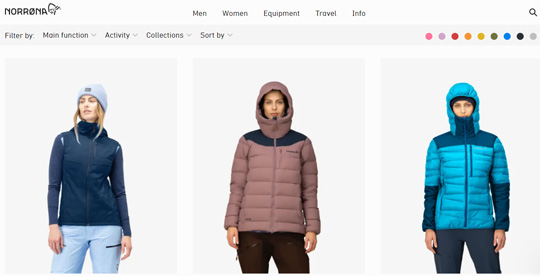 Norrøna official website: Women's jackets
Tracing its origins back to 1929, Norrøna is a pioneering Norwegian brand well-known for its high-performance clothing. Early innovation led to its distinction as the first European brand to incorporate Gore-Tex membranes into its jackets, leading to continuous design improvements.
Norrøna jackets, which are offered in a variety of collections, have garnered consistent praise from customers for their reliability and are available with both down and synthetic fills such as PrimaLoft. This durability is particularly appreciated by those who prioritize sturdy construction.
The breathable and fully waterproof options use Gore-Tex, providing users with adaptable designs in various colors. Whether engaging in demanding outdoor activities or casual outings, Norrøna ensures that you're equipped to confidently face the elements.
Related: 10 Norwegian Jackets and Clothing Brands: Our Top Picks