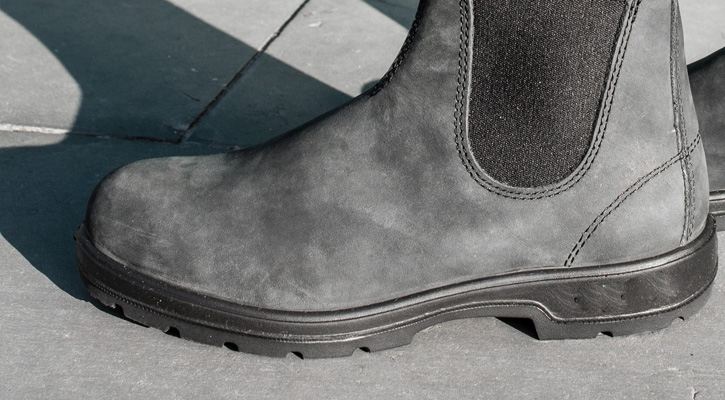 Blundstone is a name that has been synonymous with rugged outdoor boots for over a century and a half. Founded in 1870, this Australian brand has become a staple in the footwear industry, with its exceptional quality and style.
Over the years, Blundstone has been worn by climbers, workers, athletes, and musicians, testifying to the durability and reliability of their products.
In this article, we'll be exploring 9 brands that are similar to Blundstone and offer the same level of quality and style in their collections.
From Chelsea boots to winter boots and safety footwear, these brands have it all. So, if you're in the market for a new pair of boots, read on to discover some of the best options in the market today!
Contents:
1. Red Wing Shoes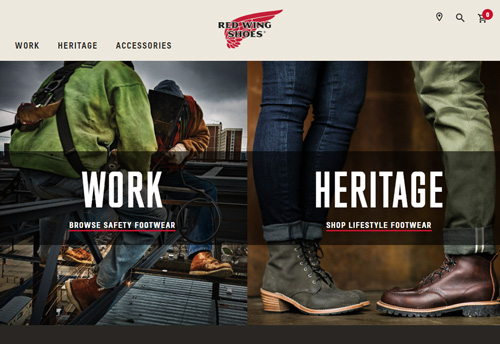 Red Wing Shoes official website
Red Wing Shoes is a US-based brand that has been manufacturing work shoes since 1905 with their headquarters in Red Wing, Minnesota.
As urban fashion became more popular, the company diversified its product line. They began producing boots and shoes for everyday use, in addition to their original work shoe line that served various industries such as agriculture and mining.
The brand is known for its durable soles and rugged design. The price range for both men's and women's shoes varies from $250 to over $300 depending on the chosen model.
Don't miss: 12 Boot Brands like Red Wing for Work and Outdoor Wear
2. Rossi Boots

Rossi Boots official website
Rossi Boots, an Australian footwear manufacturer, is well-known for producing high-quality boots and shoes. The company was founded in 1910 by Arthur Rossiter and is headquartered in Kilburn, South Australia, a suburb of Adelaide.
Rossi Boots uses materials such as leather and suede leather to create various types of boots and shoes. Their footwear is durable and comfortable, ensuring long-lasting wear. The company also offers accessories like belts, socks, and footbeds.
Rossi's collection includes boots for men and women, dress boots, work models, and outdoor models, showcasing its versatility. Rossi Boots' prices start at around $120.
Related: 8 Scandinavian Boot Brands for Hiking and Outdoor Wear
3. Timberland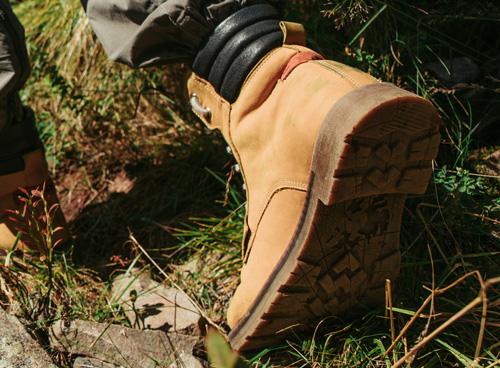 A Timberland Yellow Boot
The footwear and clothing brand, Timberland, was founded in Massachusetts, USA in 1952 and has since become well-known for its comfortable and long-lasting boots.
Timberland has gained a reputation for producing top-of-the-line safety and work boots that are both strong and practical. The brand's yellow boots are a recognizable symbol of its identity and have played a significant role in its success.
Timberlands are a worthy investment despite their high prices due to their exceptional craftsmanship and fashionable designs. The brand shares a similar focus with Blundstone, prioritizing quality and durability, making them two brands with a shared philosophy.
Read also: 10 Boot Brands like Timberland that You'll Love
4. Redback Boots

Redback Boots official website
Redback Boots is a company based in New South Wales, Australia, that is owned by the Cloros family. The brand has a long-standing history of producing a variety of shoes and boots.
Redback has gained recognition for its lightweight work boots that are of exceptional quality and are 100% Australian-made. These boots have even been worn by the Australian military.
The quality of Redback products can be observed in the boots' characteristics, which are made of 100% genuine leather and are designed for long-lasting comfort. The leather is extremely durable and can easily conform to the feet's movements.
The Redback catalog is divided into different categories for men and women and by type of footwear. The company's website also features products that are exclusively targeted at various industries' workers. The prices of Redback products can vary significantly, ranging from $150 to $350 per item.
Read next: 7 German Hiking and Winter Boot Brands: Our Top Picks
5. Dr. Martens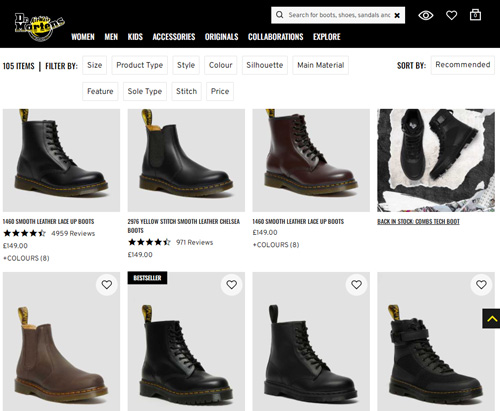 Dr. Martens official website
For many years, Dr. Martens has been a popular name in the footwear industry, renowned for its exceptional design, durability, functionality, and comfort.
The brand's air-cushioned sole makes its boots highly comfortable to wear, which has contributed to their widespread popularity.
In 1945, Dr. Klaus Maertens created an air-cushioned sole that was softer than traditional leather soles to aid in his recovery from a foot injury. He partnered with Dr. Herbert Funk to establish a business that later caught the attention of the English company, Griggs.
This partnership led to the creation of the iconic 1460 design that remains famous today. Initially targeting the working class, the brand gained popularity after Pete Townshend of The Who was seen wearing it.
Dr. Martens boots are suitable for both active and stylish individuals, providing excellent comfort and support due to their unique soles and soft leather. Their durability makes them ideal for heavy use that can last for years, although they are priced on the higher side.
This British brand is also well-known for its vegan boots.
Don't miss: 9 Brands like Dr. Martens for Rugged Boots
6. Danner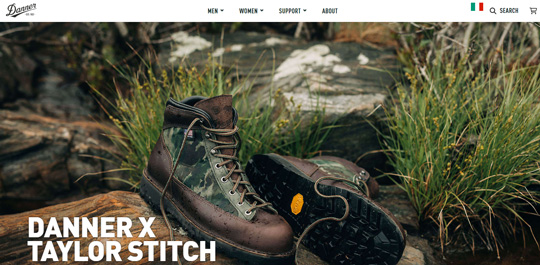 Danner official website
Danner is a famous name in the footwear market, established in Portland, Oregon, USA, in 1932. The brand is known for its trailblazing efforts in shoe production, emphasizing the creation of durable and weather-resistant shoes.
Danner continues to adhere to its founding principles while also incorporating advanced technologies to enhance the comfort and appearance of its boots. As a result of the brand's outstanding quality and credibility, its products are priced on the expensive side.
A remarkable illustration of this is their hiking boots with a vintage-inspired appearance, which not only fulfill a utilitarian purpose but also have a very beautiful design.
Related: 9 Boot Brands like Danner (Best Alternatives)
7. R.M. Williams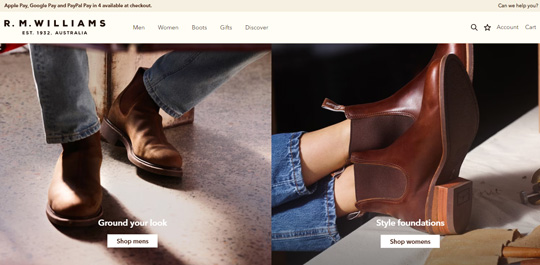 R.M. Williams official website
Reginald Murray Williams established R.M. Williams, a well-known Australian boot brand, in 1932. The brand's boots have become increasingly popular due to its distinctive Australian style and appearance, making it a great choice for those looking for unique designs.
The Craftsman Chelsea Boot is the brand's flagship product, recognized for its high-quality leather and excellent craftsmanship.
In recent years, R.M. Williams has expanded its product range, now offering various shoe styles and clothing options.
Read also: 6 Norwegian Boots and Shoes Brands: Our Top Picks
8. KEEN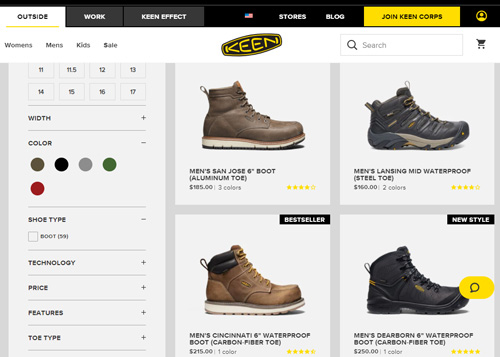 KEEN official website
KEEN is a company based in the United States, in Portland, Oregon. Since its establishment in 2003, under the leadership of Martin Keen and Rory Fuerst, the brand has achieved notable success.
Initially, KEEN began by producing sandals that were suitable for water activities, which became renowned for their quality and style, most notably the Newport Sandal. Since then, KEEN has expanded its product line to include casual footwear, hiking boots, and work boots.
KEEN's boots are known for their good quality, comfort, and spacious toe boxes. What sets KEEN apart from others is its commitment to environmental preservation through volunteer work, contributions, and eco-friendly manufacturing practices.
Also, the brand offers accessible prices for its work shoes and boots.
Read next: 9 Shoe Brands like KEEN (for Hiking, Work, and Outdoor Wear)
9. Solovair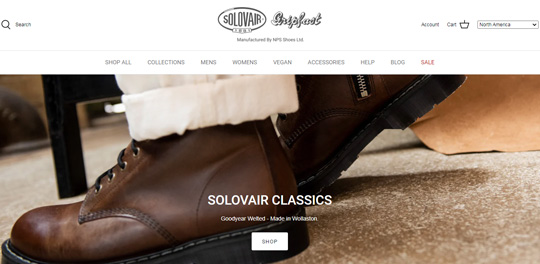 Solovair official website
Solovair is a renowned British footwear brand that shares a connection with Dr. Martens. It's interesting the fact that Solovair held the patent for producing Dr. Martens for a considerable period.
The brand was founded by a group of five craftsmen from Wollaston, Northamptonshire, who aimed to counteract the unjust shoe-making system and protect themselves from low wages.
They established a cooperative known as NPS in 1881, which became proficient in various production techniques, including the Goodyear welt technology, which is the foundation of its Solovair soles or Sole-of-Air.
Thanks to Solovair's innovation, NPS secured a lucrative contract to manufacture the original Docs, referred to as "Dr. Martens made by Solovair," up until the mid-1990s.
NPS/Solovair continued to produce its unique boots on its own or on behalf of other famous companies. A pair of Solovair boots is comparable in quality to the best available in the market.
Don't miss: 8 Finnish Shoes and Boots Brands That You'll Love