Dr. Martens is a famous British footwear brand that started as a bootmaker for the working class. Then it became a symbol of rebellion of the youth in the 1960s and 1970s. And today it has become an important name in the fashion industry.
All this time while producing some of the most durable and comfortable boots on the market!
So, if you're looking for rugged outdoor boots that can withstand years of use, Dr. Martens is a great option!
But what if you wanted more options? Well, in that case, today's article is for you.
We've compiled a list of 9 of the best boot brands that are similar to Dr. Martens.
Timberland, Danner, Red Wing Shoes, Solovair, Grenson, Blundstone, KEEN, Grinders, and Fluevog all prioritize exceptional craftsmanship and design.
From vintage-inspired hiking boots to eco-friendly work boots, these companies offer a range of styles and options to suit any lifestyle and budget.
So, let's explore them all!
Contents:
1. Timberland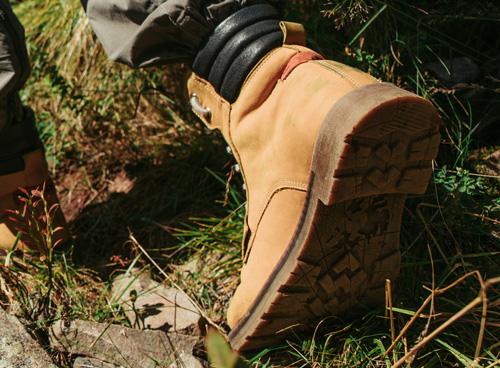 A Timberland Yellow Boot
Timberland is a renowned footwear and clothing brand that was born in Massachusetts, USA, in 1952. It quickly became famous for its durable and comfortable boots.
Timberland has gained immense popularity over the years for its top-of-the-line safety and work boots, which are both robust and functional. The brand's signature yellow boots have become an emblem of its identity, playing an important role in its success.
Despite their high prices, Timberlands are a worthy investment due to their exceptional craftsmanship and stylish designs. The brand has a similar focus to Dr. Martens, both prioritizing quality and durability, making them two brands with a shared philosophy.
Don't miss: 10 Boot Brands like Timberland that You'll Love
2. Danner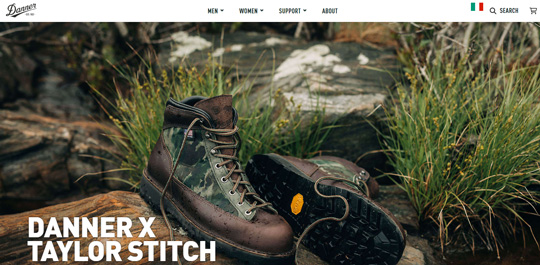 Danner official website
Danner is a well-known brand in the footwear industry, founded in Portland, Oregon, USA in 1932. The company has gained recognition for its pioneering work in shoemaking, with a focus on creating long-lasting and weather-resistant footwear.
Danner remains committed to its original mission, while also integrating cutting-edge technologies to improve the comfort and aesthetics of its boots. Due to the brand's exceptional quality and reputation, its products are priced at a premium.
One noteworthy example is their vintage-inspired hiking boots, which not only serve a practical purpose but also boast an attractive design.
Related: 9 Boot Brands like Danner (Best Alternatives)
3. Red Wing Shoes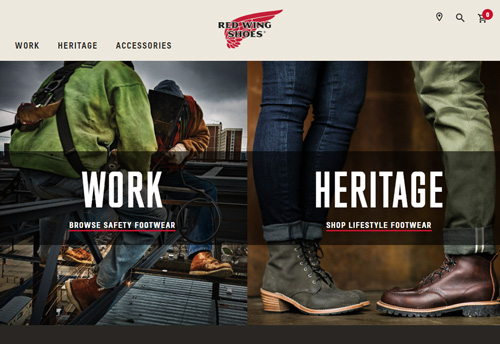 Red Wing Shoes official website
Red Wing Shoes is a US-based company headquartered in Red Wing, Minnesota, that has been producing work shoes since 1905.
Over time, the brand has diversified its product range to include a broader selection of footwear in response to the growing popularity of urban styles. Although originally designed for use in agriculture and mining, Red Wing now offers boots and shoes suitable for everyday wear.
The brand is recognized for its robust design and long-lasting soles, with pricing varying depending on the style, ranging from roughly $200 to over $300 for both men and women.
Read also: 12 Boot Brands like Red Wing for Work and Outdoor Wear
4. Solovair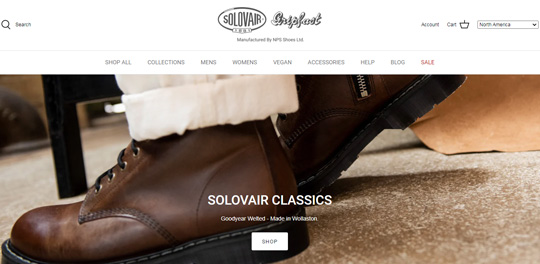 Solovair official website
Solovair is a British footwear brand that has a connection to Dr. Martens. Interestingly, Solovair held the patent to produce Dr. Martens for many years.
The brand was established by five craftsmen from Wollaston, Northamptonshire, who aimed to counteract the unfair shoe-making system and protect themselves from low wages by founding a cooperative known as the NPS in 1881.
NPS became proficient in various production techniques, including the Goodyear welt technology, which forms the foundation of its Solovair soles or Sole-of-Air.
The Solovair innovation enabled NPS to secure a lucrative contract to manufacture the original Docs, referred to as "Dr Martens made by Solovair," until the mid-1990s.
Subsequently, NPS/Solovair continued to produce its unique suspended-sole boots for its label or on behalf of other prestigious companies. A pair of Solovair is comparable in quality to the best Docs available in the market.
Read next: 8 Scandinavian Boot Brands for Hiking and Outdoor Wear
5. Grenson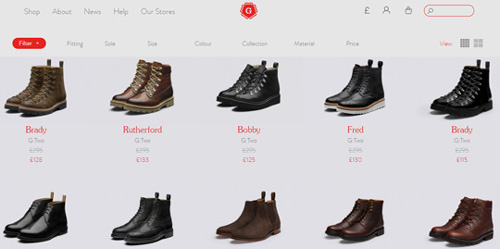 Grenson official website
Founded in 1866, Grenson is a shoe company that began as a small artisanal operation in Rushden, Northamptonshire, England. Over time, as demand for their shoes grew and machinery became available, Grenson transitioned into a full-fledged factory by 1874.
The company prides itself on its commitment to innovation and variety, offering a diverse selection of boot models that vary in shape, color, and material. Grenson's products are designed to seamlessly blend comfort and style, making them a popular choice among discerning shoppers.
Grenson's prices are expensive, also thanks to these qualities, the company's rich history, and its exceptional know-how.
Don't miss: 7 German Hiking and Winter Boot Brands: Our Top Picks
6. Blundstone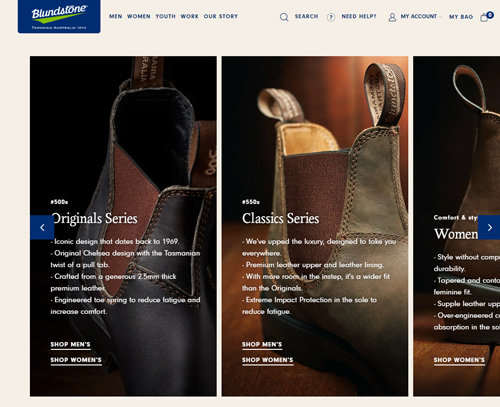 Blundstone official website
Blundstone, a company originating from Australia, has been producing boots for more than 150 years since its establishment in 1870. Although not all of its current production occurs in Australia, the company's reputation for creating comfortable designs remains uncompromised.
Irrespective of your occupation, Blundstone offers a range of boots that are tailored to your lifestyle. These boots are not only comfortable but also water-resistant, ensuring your feet remain dry and warm while still being breathable.
Blundstone boots are a long-lasting investment with a lifespan of over 5 years, but they may be slightly more expensive than other brands. However, they remain a cost-effective option for both work and casual wear.
Related: 10 Italian Hiking Boot Brands: Our Favorites
7. KEEN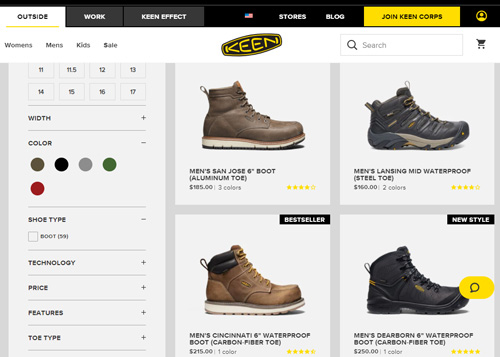 KEEN official website
The US-based brand KEEN operates out of Portland, Oregon, and has achieved notable success since its establishment in 2003 under Martin Keen and Rory Fuerst's leadership.
Initially, the brand started by making sandals suitable for water activities and became famous with its Newport Sandal. It has since broadened its product line to include casual footwear, hiking boots, and work boots.
KEEN's boots are notable for their exceptional quality, comfort, and spacious toe boxes. What distinguishes KEEN is its devotion to environmental preservation through volunteer work, contributions, and eco-friendly manufacturing practices. The brand offers accessible prices for work shoes and boots.
Read also: 9 Shoe Brands like KEEN (for Hiking, Work, and Outdoor Wear)
8. Grinders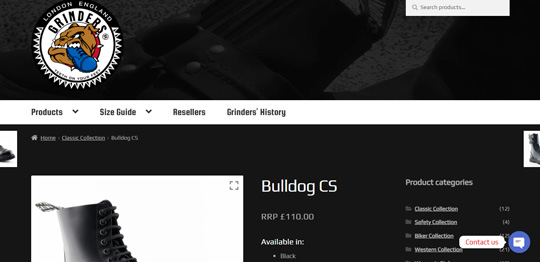 Grinders official website
A street-style bootmaker, Grinders, has emerged from the UK and is associated with the British music scene. Grinders is well-known for producing durable and robust boots that have been popular since their inception in 1965.
During the late 1980s and 1990s, Grinders gained widespread popularity, with English bands such as Take That, The Prodigy, and East 17 sporting their boots. These were the years of baggy pants and street style, which complemented the boots perfectly.
Grinders boots are designed with a cushioned sole and Goodyear-welted technology to ensure long-lasting wear, regardless of the work conditions or lifestyle. Although Grinders is not in the limelight, they have a valid product and are a great alternative to Doc Martens.
Read next: 8 Swedish Footwear Brands that You'll Love
9. Fluevog

Fluevog official website
The name of Fluevog is derived from its founder, John Fluevog, who established a shoe store in historic Gastown, Vancouver, Canada, in collaboration with Peter Fox during the 1970s.
The company was initially recognized as "Fox and Fluevog." After more than a decade, John separated from his friend, and in the 1980s, he established his brand, "John Fluevog Shoes," in downtown Vancouver.
The Fluevog brand is very original thanks to its distinctive and particular boot designs, although it also offers simple designs. Fluevog stands out from other brands due to its innovative details and unique shapes.
The company's collection is wide and caters to varying customer preferences. Prices are in the mid to high range.
Don't miss: 8 Finnish Shoes and Boots Brands That You'll Love