While Danner is known for its high-quality boots, there are many other brands that offer similar quality and durability.
Today, we'll explore 9 of these brands that we think are good alternatives to Danner, each one with its rich history and particular characteristics.
From Red Wing Shoes to Irish Setter, there are many options to choose from.
Red Wing Shoes, for example, has been producing work shoes since 1905. Timberland is another popular brand that is known for its top-notch boots.
KEEN, a new player in the footwear industry, is committed to environmental conservation. Thorogood is renowned for crafting sturdy footwear for heavy-duty jobs.
And many more…
With so many options, we're sure you'll find something you like! So, let's begin!
Contents:
1. Red Wing Shoes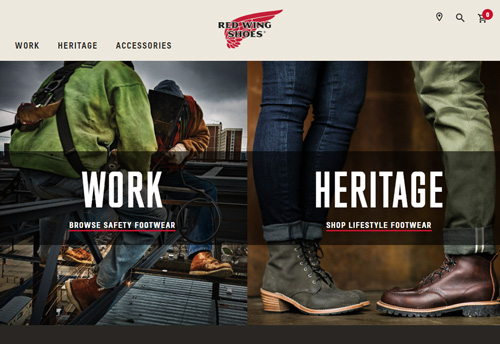 Red Wing Shoes official website
Red Wing Shoes, an American company, has its headquarters located in Red Wing, Minnesota, and has been manufacturing work shoes since 1905.
As urban styles have become more popular, the brand has expanded its product line to include a wider variety of footwear. Originally created for work in industries such as agriculture and mining, Red Wing now also produces boots and shoes for everyday use.
The brand is known for its durable soles and sturdy design. The cost of Red Wing footwear varies depending on the style, with prices ranging from approximately $200 to over $300 for both men and women.
Don't miss: 12 Boot Brands like Red Wing for Work and Outdoor Wear
2. Timberland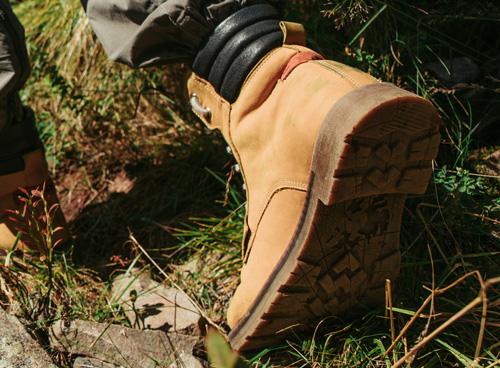 A Timberland Yellow Boot
The year 1952 marked the foundation of Timberland, a brand hailing from Massachusetts. It gained wide recognition for its sturdy and comfortable boots over the years.
Timberland has become a household name, known for its top-notch work and safety boots that are robust and functional. The brand's iconic yellow boots have become synonymous with its name, contributing significantly to its popularity.
Despite their relatively high cost, Timberland boots are worth the investment, thanks to their exceptional build quality and unique styles. The brand shares similarities with Red Wing, as both focus on quality and durability, making them two brands with a common philosophy.
Related: 10 Boot Brands like Timberland that You'll Love
3. KEEN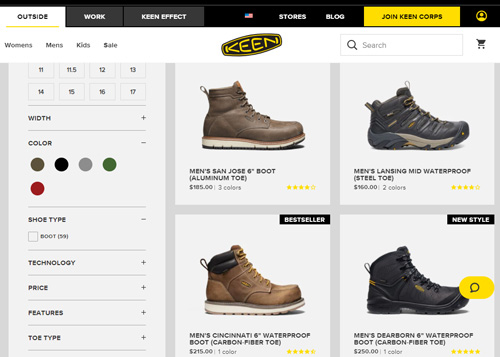 KEEN official website
KEEN is a US-based brand that operates from Portland, Oregon. Despite being a new player in the footwear industry, KEEN has made significant progress since its inception in 2003 under the leadership of Martin Keen and Rory Fuerst.
Initially, the brand focused on producing sandals suitable for water activities, but it has since expanded to include casual shoes, hiking boots, and work boots. KEEN's boots stand out for their high quality, comfort, and spacious toe boxes.
What sets KEEN apart is its commitment to environmental conservation through volunteering campaigns, donations, and eco-friendly manufacturing practices. In addition, the brand offers accessible prices for its work shoes and boots.
Read also: 9 Shoe Brands like KEEN (for Hiking, Work, Outdoor Wear)
4. Chippewa Boots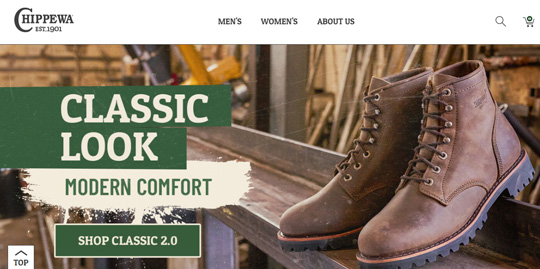 Chippewa Boots official website
Chippewa Boots was first established in Wisconsin, USA in 1901. The brand is renowned for its production of durable and sturdy boots for outdoor activities, as well as fashionable and sophisticated boots for indoor use.
Chippewa Boots offers a diverse selection of products for a variety of activities, including outdoor pursuits and work.
The designs of Chippewa Boots are influenced by the original appearance of loggers and mountain climbers, with the integration of modern technology to ensure comfort and practicality.
The pricing of this brand's boots falls within the mid-range, making them affordable for varying budgets. Their products are widely recognized for their quality and longevity.
Read next: 8 Scandinavian Boot Brands for Hiking and Outdoor Wear
5. Thorogood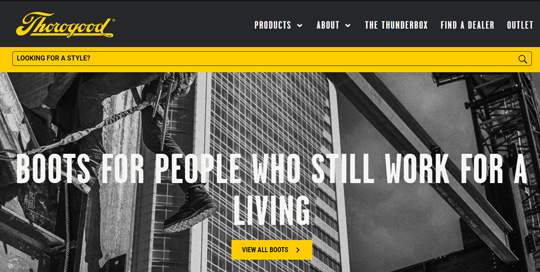 Thorogood official website
Albert Weinbrenner established Weinbrenner Shoe Co. maker of Thorogood shoes in 1892 with a mission to cater to American workers who contributed to building the nation. The brand's roots are in Milwaukee, Wisconsin, and it remains dedicated to producing its goods in the United States.
Thorogood is renowned for crafting sturdy footwear that can withstand heavy-duty jobs. Although their boots are functional over fashionable, Thorogood has succeeded in creating a comfortable yet rugged design.
Thorogood's boots differ from other work boots in that they are considerably lighter. We suggest exploring their Moc Toe boots.
Don't miss: 8 Swedish Boots and Shoes Brands that You'll Love
6. Wolverine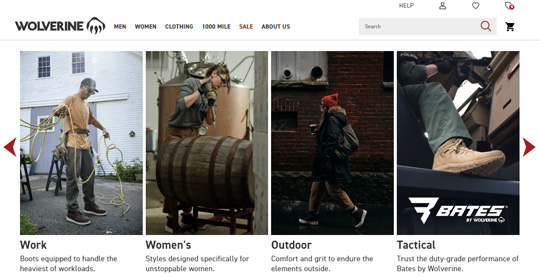 Wolverine official website
Wolverine Worldwide was established in 1883 in Michigan, USA by G.A. Krause. The company started as a small leather tannery and had a limited number of employees. Over time, the brand has grown and become widely popular.
Wolverine is known for its exceptional craftsmanship, producing durable and comfortable gloves and boots for challenging work. In the 1910s, they introduced the original "1000 Mile" working boot, named after its ability to withstand 1000 miles of wear.
This boot was highly valued by workers due to its soft and long-lasting horsehide leather. The "1000 Mile" model remains the company's core product, and it is still handcrafted using the same techniques today.
Wolverine offers a variety of boots for both men and women and has diversified its collection with other clothing options such as hats, t-shirts, and jackets.
Related: 7 German Hiking and Winter Boot Brands: Our Top Picks
7. Thursday Boots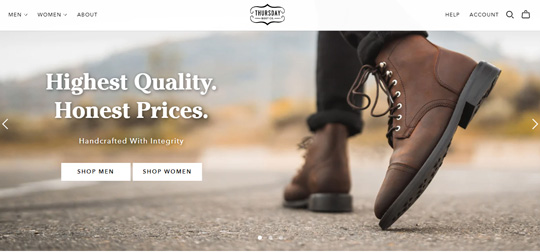 Thursday Boots official website
Thursday Boot Co. is a new player in the boot sector, founded in New York, USA in 2014. Despite being a new player, the brand has established itself as one of the leading players in the industry.
This company merges conventional craftsmanship with modern fashion trends to create its distinct style of top-notch footwear. Even though their items are priced higher than some of their rivals, they still provide premium quality boots at a reasonable cost.
If you're seeking a flexible, contemporary boot for any event, Thursday Boots is unquestionably a brand worth contemplating.
Read also: 10 Italian Hiking Boot Brands: Our Favorites
8. Dr. Martens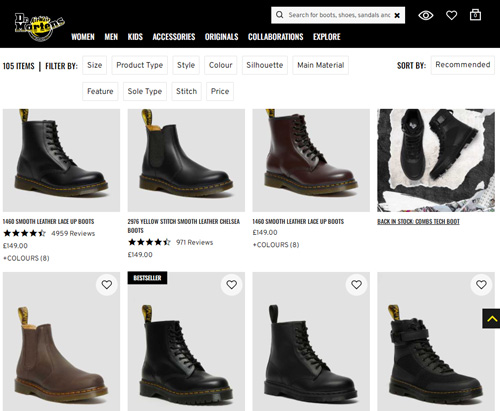 Dr. Martens official website
Dr. Martens has been a widely recognized name in the footwear industry for many years. The brand is well-known for its exceptional design, durability, functionality, and comfort. Their boots are highly comfortable to wear due to their air-cushioned sole, making them a popular choice for many.
Back in 1945, Dr. Klaus Maertens developed an air-cushioned sole that was softer than traditional leather soles to aid in his recovery from a foot injury. He collaborated with his university friend, Dr. Herbert Funk, to establish a business that eventually caught the attention of the Griggs company from England.
This partnership resulted in the creation of the iconic 1460 design that is still famous today. The brand initially targeted the working class but gained popularity after Pete Townshend of The Who was seen wearing it.
Dr. Martens boots are ideal for both active and stylish individuals. They provide excellent comfort and support due to their particular soles and soft leather, making them suitable for heavy use that can last for years. As a result, they are priced on the higher side.
This British brand is also well-known for its vegan Dr. Martens boots.
Read next: 8 Finnish Footwear Brands That You'll Love
9. Irish Setter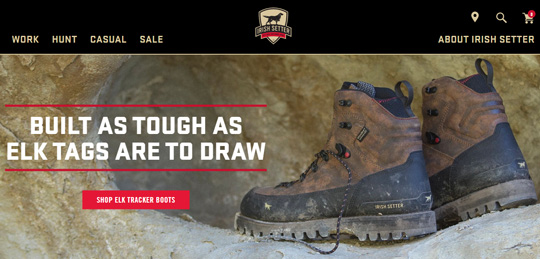 Irish Setter official website
The Irish Setter brand was founded in 1950 with the aim of producing outdoor footwear that highlighted the Red Russet leather color, which is similar to the color of the Irish Setter hunting dogs.
As time went on, construction workers in America recognized the practical features of Irish Setter boots, leading to a surge in their popularity.
Today, Irish Setter remains a top manufacturer of high-quality footwear for outdoor enthusiasts, offering a diverse selection of hunting boots, fishing shoes, and casual boots to suit any need. This makes Irish Setter the perfect choice for anyone looking for exceptional outdoor footwear.
Don't miss: 6 Norwegian Boots and Shoes Brands: Our Top Picks