KEEN is a popular American company known for its high-quality hiking, work, and outdoor footwear which started and became famous thanks to the Newport Sandal.
Today we'll explore some other brands that offer similar quality and durability, so you can have even more options for your next pair.
From Salomon's innovative technologies to Timberland's iconic yellow boots, we'll cover a lot of interesting things about these brands and their products.
Be it a pair of hiking shoes or some rugged work boots, these companies have all you need. So, let's get started!
Contents:
1. Salomon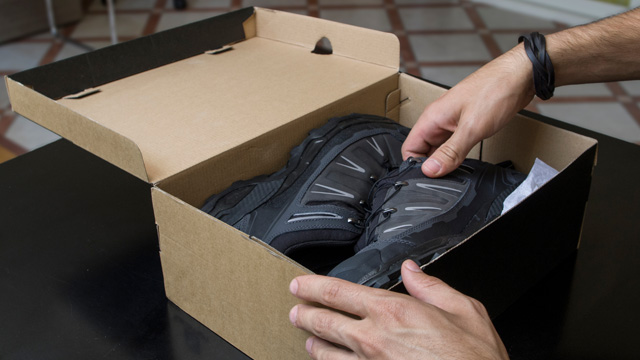 Unboxing a pair of Salomon boots
Georges Salomon founded Salomon in 1947 in Annecy, France, as a workshop specializing in wood saws and ski edges. The company later expanded its range of products to include sports and outdoor gear.
Salomon offers a variety of shoes for running, snow sports, trekking, and other outdoor activities for men, women, and children. Many of their boots use Gore-Tex technology, providing waterproofness and breathability for a comfortable walking experience.
The brand also incorporates lightweight materials, making movement effortless. Salomon has implemented sustainability programs in several of its projects. Although Salomon's products are relatively expensive, with some high-quality shoes costing over $200, we think they are a worthwhile investment.
Don't miss:
9 Footwear Brands like Salomon for Outdoor Activities
5 Best French Hiking Boots and Shoe Brands
2. Timberland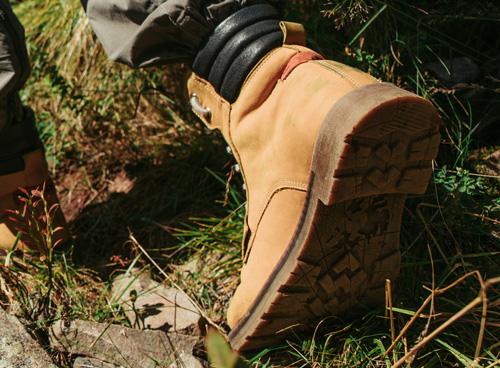 A Timberland Yellow Boot
The Massachusetts-based brand, Timberland, was established in 1952 and quickly gained popularity for its comfortable and long-lasting boots.
Over time, Timberland has become known for its exceptional work and safety boots, which are highly regarded for their robustness and practicality. The brand's iconic yellow boots have become synonymous with the Timberland name and have contributed to its immense popularity.
Despite their relatively high cost, Timberland boots are considered a good investment due to their exceptional build quality and unique designs. Similar to KEEN, Timberland prioritizes quality and durability, making them two brands with a common focus.
Related: 10 Boot Brands like Timberland that You'll Love
3. Merrell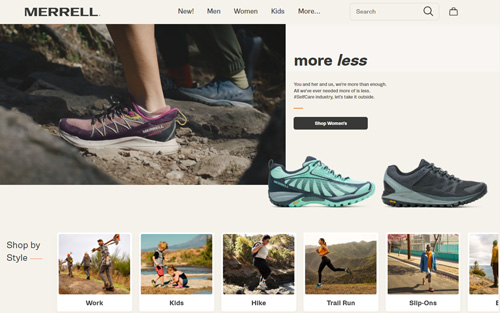 Merrell official website
Merrell, a renowned footwear brand, was established in the United States in 1981 by Randy Merrell, Clark Matis, and John Schweizer. Randy Merrell already had a successful career in the footwear industry before co-founding the company.
Matis and Schweizer, who had previously worked at the Rossignol ski company, aimed to develop an affordable and high-quality outdoor boot.
Despite undergoing several acquisitions, Merrell has remained committed to its original vision. The brand's shoes are made of leather and synthetic uppers, Vibram soles, Gore-Tex membranes, and Merrell's exclusive technologies such as M-Select DRY and M-Select GRIP.
Merrell's Moab, which is in its third version, is one of the brand's most popular shoes. It comes in various models and is ideal for hiking and mountain activities.
Read also:
8 Shoes and Boot Brands like Merrell: Best Alternatives
Merrell vs. Salomon Hiking Boots: Which is Better?
4. Oboz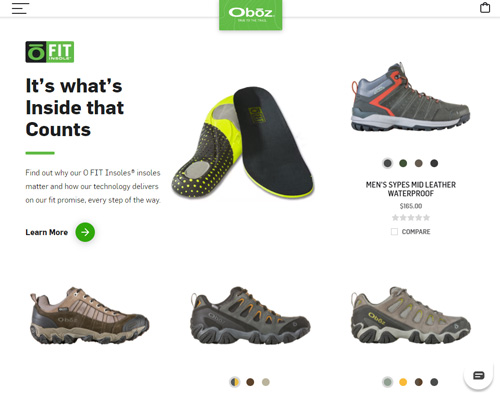 Oboz official website: Men's hiking boots
The name of the brand, "Oboz", was created by combining "outside" and "Bozeman", reflecting the founders' passion for outdoor activities in their hometown of Bozeman, Montana, USA.
John Connelly established Oboz in 2008, taking advantage of the local mountainous terrain to test the company's footwear and achieve significant success in subsequent years. Oboz stands out for its commitment to environmental conservation, with a focus on various forestry initiatives.
The O Fit Insole is one of Oboz's most renowned technologies, providing exceptional foot and ankle support. The Oboz midsoles are lightweight and stable, and the outsoles provide excellent grip and durability on any terrain. In our view, this brand is a great alternative to KEEN's shoes.
Read next: Oboz vs Merrell Hiking Boots: Which Brand is Better?
5. Danner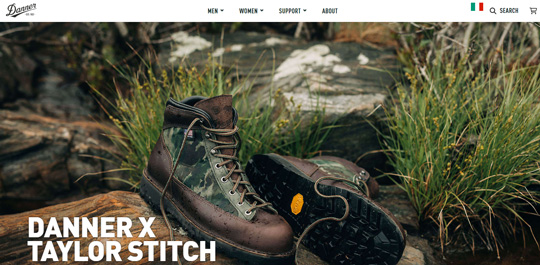 Danner official website
In 1932, Danner was born in Portland, Oregon, USA, and has since become a well-known brand in the footwear industry. The company has gained recognition for its innovative approach to shoemaking, with a focus on creating durable and weather-resistant footwear.
Danner remains committed to its original principles while incorporating advanced technologies to improve the comfort and style of its boots. The brand's products are known for their exceptional quality and reputation, which is reflected in their premium pricing.
One of Danner's standout products is its vintage-looking hiking boots, which are not only functional but also very beautiful to see.
Don't miss: 8 Scandinavian Boot Brands for Hiking and Outdoor Wear
6. Hanwag

Hanwag Omega boot
Hanwag is a German company established near Munich in 1921 by Hans Wagner. Initially, the company focused on shoe repair and production. Later, it developed the double-stitching shoemaking technique, which is still in use today.
Hanwag currently offers high-quality, long-lasting shoes and boots produced in Europe for mountaineering, hiking, traveling, and other outdoor pursuits. The company utilizes various materials and technologies, including leather, G-Loft, Eco-Shell, Gore-Tex, and Bio Ceramic.
One of Hanwag's most popular lines is Alaska, which is a comfortable, durable, and versatile boot suitable for a variety of outdoor activities.
Related:
Hanwag vs. Lowa Boots: A Comparison
7 German Hiking and Winter Boot Brands: Our Top Picks
7. Teva

Teva official website
Teva was founded in 1984 as an American footwear brand by geophysicist Mark Thatcher. Presently, Deckers Outdoor Corporation is responsible for the production and distribution of Teva sandals and shoes.
The brand offers an extensive collection of footwear, such as hiking shoes, boots, sandals, and sneakers, all crafted with Leather Working Group certified leather.
Teva is also committed to sustainability and assesses the environmental impact of its products across their entire life cycle, offering customers the possibility of minimizing their ecological footprint.
Read also: 8 European Hiking Boots and Shoes Brands: Our Favorites
8. Lowa

Hikers wearing Lowa boots
Lowa, a renowned German brand, originated in 1923 near Munich and currently operates factories in Germany, Slovakia, and Italy.
The brand is committed to using solely European-sourced materials, including leather and fabrics, and has implemented strict regulations. Lowa is well-known for producing long-lasting and supportive footwear ideal for trekking and mountaineering, utilizing high-quality materials like split leather, Nubuck leather, and recycled fabrics.
All midsoles are made using recyclable polyurethane or Dyna PU, which are environmentally friendly and provide superior support.
Lowa's Renegade GTX boots are perfect for navigating challenging trails and technical terrains, while the Taurus Pro GTX Mid is a more affordable option for less demanding hikes. Most Lowa's models are priced from $150 to $250.
Read next: Lowa Renegade vs Meindl Vakuum Boots: Which is Better?
9. Meindl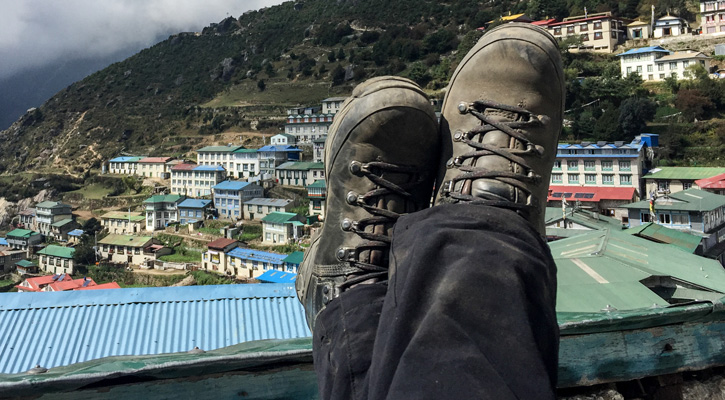 Hiker wearing German Meindl shoes
Meindl, a renowned German company, is among the oldest manufacturers of artisan footwear, with a rich history dating back to 1683, under the leadership of Petrus Meindl.
Although the company was officially established in 1928, its production process still relies heavily on traditional craftsmanship, while modern tools are used to aid in manufacturing. The company's unwavering commitment to detail is also a distinctive trait of its production techniques.
Meindl's hiking shoes are designed to provide both comfort and stability, allowing users to walk for extended periods of time in various terrains. The shoes' outsoles are engineered to provide excellent grip on uneven terrain, making them ideal for hiking and other difficult outdoor adventures.
Don't miss: Hanwag vs Meindl Boots: A Comparison