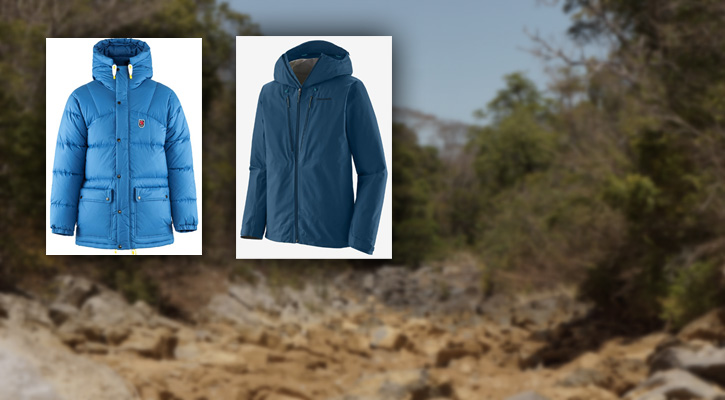 Fjällräven and Patagonia are two brands with rich histories and unique origins.
Fjällräven was born in Sweden in the 1960s out of the need for a more spacious backpack, while Patagonia was founded in the USA by a climbing enthusiast turned blacksmith.
In this article, we'll compare the outdoor gear range, materials, and prices of these two companies to understand which one comes out on top and when one is better than the other.
So, let's find out which one should you choose!
Comparison Table:
| | Fjällräven | Patagonia |
| --- | --- | --- |
| Founded | 1960, Sweden | 1973, USA |
| Product Range | Jackets, pants, backpacks, tents, sleeping bags, etc. Activities: mountain, lifestyle. | Jackets, pants, backpacks, tents, sleeping bags, etc. Activities: mountain, lifestyle, surf, fly fishing. |
| Materials | Nylon and Polyester (some of it recycled), Organic cotton, traceable down insulation, Eco-Shell membrane, G-1000 waxed fabrics, etc. | Nylon and Polyester (some of it recycled), Organic cotton, recycled traceable down insulation, PrimaLoft synthetic insulation, H2No and Gore-Tex membranes. |
| Sustainability | Uses sustainable and recycled materials, focuses on animal welfare, encourages product repair and recycling, eco-friendly production and packaging. | Uses recycled materials and advocates for environmental conservation. Donates a portion of revenue to environmental causes. |
| Production Locations | Asia (China, South Korea, Vietnam). | Asia (Vietnam, China, Sri Lanka, Thailand, etc.), Mexico, USA (small part of products) |
| Prices | Mid to high: jackets $150 – $1000, backpacks $60 – $400. | Mid to high: jackets $130 – $700, backpacks $70 – $300. |
| Decision | Mainly mountain activities. Minimalist, classic, retro designs. Eco-friendly, weather-resistant fabrics. | Mountain activities, surfing, fly fishing. Minimalist, modern designs. Environmental activism. Weather-resistant fabrics. |
1. Fjällräven Outdoor Gear
History of the Brand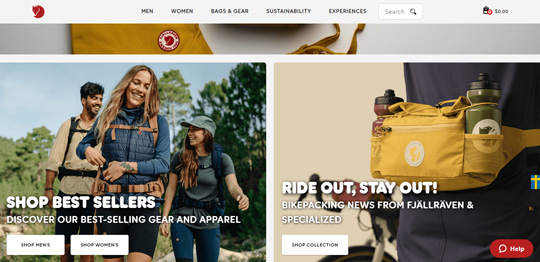 Fjällräven official website
Fjällräven, a renowned Swedish brand, derives its name from the Arctic Fox, which is also beautifully depicted in its logo.
The company was founded in 1960 by Åke Nordin, a passionate hiker who aimed to create a backpack that could effortlessly carry heavier loads without causing any strain on the back. After successfully designing his dream backpack, he started selling it locally.
Recognizing the need for lightweight and supportive backpacks, he established Fjällräven to cater to the gap in the market. In the 1970s, the company invented the Kånken backpack, which was specifically designed to tackle the back problems faced by school children in Sweden due to the absence of proper backpacks to carry books at the time.
Today, the Kånken backpack is one of the brand's most popular products, used not only by school children but also as a fashion statement for daily use.
Over the years, Fjällräven has introduced numerous other products for outdoor activities, including insulated jackets, light breathable jackets, waxed-cotton jackets, backpacks, hiking pants, sleeping bags, and camping tents.
With such a vast collection, Fjällräven has everything an outdoor adventurer needs for their next expedition.
Don't miss:
9 Outdoor Brands like Fjällräven: Our Favorites
Fjällräven vs Helly Hansen (Side-by-Side Comparison)
Materials, Fabrics, and Production Process
Fjällräven is a well-known brand that is highly regarded for its durable jackets and backpacks that can withstand the test of time. This is one of the primary reasons why outdoor enthusiasts prefer this brand.
The production process is meticulous, with an emphasis on attention to detail that is immediately noticeable when holding any of their products.
The materials used in their products are carefully selected, with G-1000 being one example. This breathable and robust fabric, made of a cotton-polyester blend, is used in their jackets and can be waxed to make it adaptable to different weather conditions.
Additionally, the Swedish company ethically sources natural down from ducks and geese which is used in their winter parkas and insulated jackets, providing exceptional insulation in harsh temperatures.
Fjällräven also utilizes synthetic materials like Polyester and Nylon. To promote sustainability, a significant portion of the Polyester used is recycled. They also use recycled Polyester to create technical fabrics like Eco-Shell, a lightweight and weather-resistant material.
Johan Jonsson | Above the tree line x Bergtagen | Fjällräven
The video will be loaded from YouTube.com, a third party. If you play it, you accept their terms of service, and their use of cookies.
Read also:
Is Fjällräven Ethical and Sustainable?
Haglöfs vs Fjällräven Outdoor Gear: A Comparison
Where is Fjällräven outdoor gear made?
Fjällräven produces most of its outdoor clothing and gear in several Asian countries, such as China, South Korea, and Vietnam. (more information here)
Recommended Products
Fjällräven Expedition Men's Down Jacket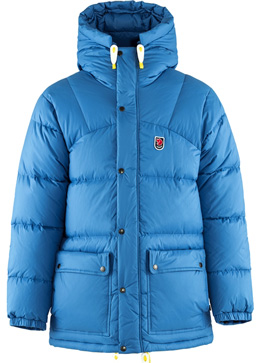 Image: fjallraven.com
Check it out at Fjallraven.com
The Expedition coat is a renowned piece of gear that dates back to the 1970s. It is made of Nylon and Polyester materials and filled with ethically produced down insulation. The jacket is ideal for extreme expeditions as it provides exceptional warmth.
Its premium price is a testament to its superior quality, which is expected of such a product. And we think this jacket is definitely worth its price!
Fjällräven Classic Kånken Backpack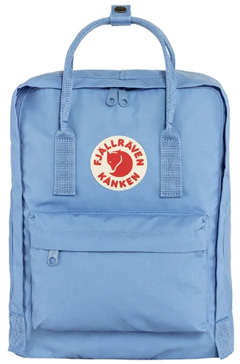 Image: fjallraven.com
Check it out at Fjallraven.com
The Kånken backpack is made from Vinylon F material, which is durable and sturdy. This material is composed of 100% vinylal.
The backpack is of exceptional quality and has water-resistant features. Its meticulous attention to detail makes it even more impressive. Besides using it for school, this backpack can also be used as a casual day-to-day accessory for carrying books and laptops.
Prices
Fjällräven is a high-end company that offers a variety of products in the mid-to-high price range, including backpacks priced from $60 to $400 and jackets that vary in price from around $150 to $1000. Among these products, the highly-insulated winter parkas are the most expensive.
Are Fjällräven products worth the price?
We think that Fjällräven products are worth investing in! The simple designs are impressive, and customers worldwide appreciate the durability of Fjällräven's gear. The insulation is outstanding, and the build is virtually indestructible.
Learn more: Why is Fjällräven so Expensive? Are Its Products Worth It?
2. Patagonia Outdoor Gear
History of the Brand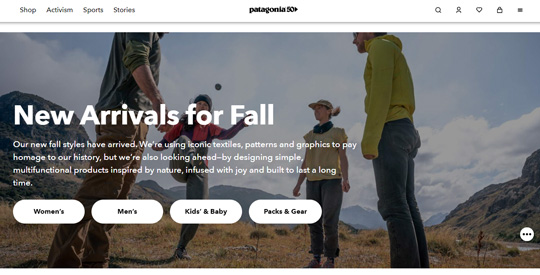 Patagonia official website
The roots of Patagonia can be traced back to 1957 when Yvon Chouinard, a renowned climber and founder of this company, wanted to become a blacksmith to make his own climbing tools.
In the same year, he manufactured his first pitons, which he successfully sold to other climbers. Later, Chouinard established a small workshop in Burbank, where he produced his climbing products and traveled around California to market them.
In 1965, he partnered with Tom Frost, which led to the establishment of Chouinard Equipment. In 1973, Chouinard created Patagonia as a clothing brand after Chouinard Equipment split.
Don't miss:
9 Brands Like Patagonia for Sustainable Outdoor Clothing
12 Best American Jackets and Outdoor Clothing Brands
Materials, Fabrics, and Production Process
Patagonia firmly believes that individual actions have a global impact on society. As a result, as part of the company's sustainability program, it utilizes recycled materials to produce its high-quality clothing.
The recycled materials are sourced from various sources, including fishing nets, as well as used materials such as cashmere, wool, polyester, and cotton.
Next, Patagonia incorporates Nylon and Polyester in their jackets and other gear, along with advanced fabric technologies such as H2No and Gore-Tex.
Recycled down is used for insulation against cold temperatures, especially in high-performance coats.
All fabrics made with these technologies undergo strict testing before being used in the final product. For more information on Patagonia's materials, you can visit the official website.
Patagonia is also famous in the outdoor community for its commitment to sustainability, environmental activism, fair labor practices, and donations to environmental causes.
Why Waste It? | Powder Bowl
The video will be loaded from YouTube.com, a third party. If you play it, you accept their terms of service, and their use of cookies.
Read also: Patagonia vs Helly Hansen: Which Brand is Better?
Where is Patagonia outdoor gear made?
Patagonia manufactures most of its outdoor equipment in countries such as China, Vietnam, Sri Lanka, Mexico, Thailand, and others. Only a fraction of its products are produced in the United States.
Recommended Products
Patagonia Triolet Men's Jacket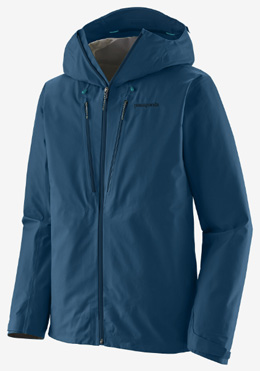 Image: patagonia.com
Check it out at Patagonia.com
The Triolet Men's jacket from Patagonia is specifically designed to endure harsh and snowy weather conditions. The jacket is made from a 3-layer GORE-TEX fabric that is both waterproof and windproof, while also allowing for breathability.
The exterior of the Triolet is made from 100% recycled polyester, providing increased durability. The jacket is free from PFC and is produced in a Fair Trade certified factory. It features a helmet-compatible hood, two chest pockets with watertight zips, two welted front pockets, and an interior drop-in pocket.
The jacket also has welted, watertight two-way pit zips for added ventilation and a dual-adjust drawcord hem to effectively block out weather elements. It includes a concealed RECCO® reflector for increased safety and is manufactured in Vietnam.
Patagonia Terravia 28L Pack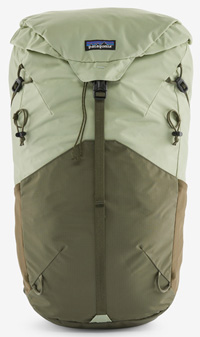 Image: patagonia.com
Check it out at Patagonia.com
The Terravia 28L Pack is a versatile option for day trips or slightly longer hikes. With a 28-liter capacity, it is constructed from 100% recycled nylon, which makes it both durable and eco-friendly.
The backpack is designed with a highly breathable back panel and shoulder straps, a front-loading stuff pocket, and a lid that automatically shuts when the drawstring is pulled. The suspended mesh back panel design ensures excellent airflow, which prevents moisture for optimal comfort.
The Regulator® airmesh shoulder straps and hip belt provide added comfort. It also has easily accessible side pockets for securing small items and is hydration-compatible. Additionally, it comes with a rain cover and has a zippered lid and internal security pockets to keep your belongings safe.
Prices
Patagonia is known as a high-end, expensive brand in the outdoor community. Patagonia's jackets range from $130 to $700, while their backpacks can cost anywhere from $70 to $300.
Are Patagonia products worth the price?
We consider Patagonia as another brand with a good price-to-quality ratio. The company is focused on incorporating sustainable materials, advocating for environmental protection, and delivering durable, technical, and high-quality equipment.
Learn more: Why Is Patagonia So Expensive and Popular? Are Its Jackets Worth It?
3. Which is Better for Outdoor Gear? Fjällräven or Patagonia?
We know that the choice between Fjällräven and Patagonia depends on personal preference and specific needs. But you're here for our opinion, so we'd say that we personally prefer Fjällräven due to its retro designs and sturdy materials that give a sense of durability and protection.
If you want more options, Patagonia offers a wider selection of gear for different sports and activities. If you need surfing and fly fishing equipment they have it too. Fjällräven mostly focuses on mountain activities.
Another thing to consider is that in recent years, both have become more focused on fashion offering clothing and accessories for everyday wear, covering all your needs.
As for prices, they are similar, both being on the higher end.
Next, fabric technologies: both have developed their own technologies, but Fjällräven doesn't use Gore-Tex. So, another thing to think about, depending on your preferences.
And that's all for this comparison! Let us know in the comments below what you think about these two brands.
Read next:
Haglöfs vs Patagonia Outdoor Gear: A Comparison
Patagonia vs Columbia: Which Brand Offers the Best Outdoor Gear?