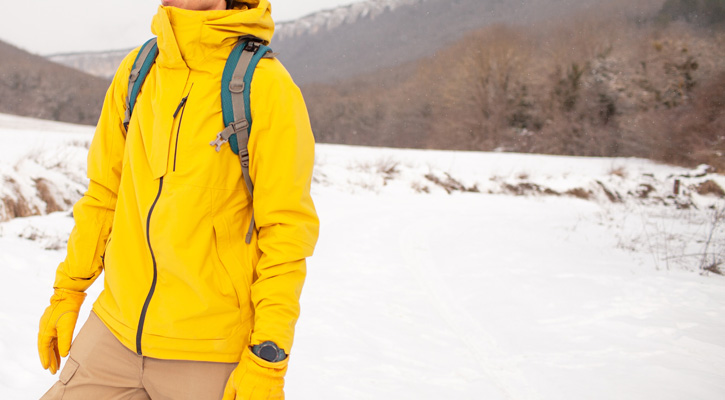 The Italian company Napapijri is a great brand if you're looking for outdoor gear or streetwear. But if you want more brand options, today's article is for you!
We've compiled a list of 9 outdoor brands that offer high-quality apparel, equipment, and accessories for outdoor enthusiasts, just like Napapijri.
Some of the names we've picked include Mountain Hardwear, which specializes in producing gear for mountaineering enthusiasts, Arc'teryx a well-known Canadian company offering high-end outdoor apparel and equipment, and Helly Hansen which is famous for its waterproof clothing.
With these brands, we're sure you'll find everything you need for your adventures out in nature!
Contents:
1. Mountain Hardwear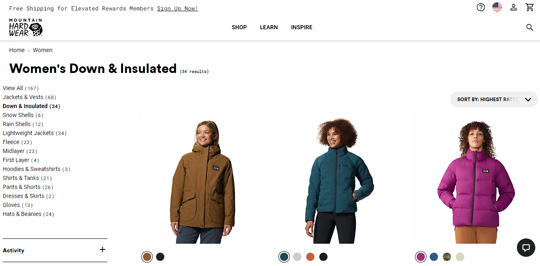 Mountain Hardwear women's down insulated jackets: official website
Mountain Hardwear is a company that is owned by Columbia Sportswear. It specializes in producing and distributing high-quality apparel, equipment, and accessories for outdoor athletes and mountaineering enthusiasts.
The brand was established in 1993 by a group of former Sierra Designs employees and has since partnered with elite alpine athletes. Ed Viesturs, the first sponsored athlete of Mountain Hardwear, was instrumental in the development of some of the company's products.
The company's headquarters are located in Richmond, California, and it has retail locations in Portland, Oregon, and Seattle, Washington.
Mountain Hardwear's product line includes outerwear, sportswear, and equipment. It has introduced several innovative technologies, such as Windstopper Fleece, Conduit waterproof/breathable membrane, and OutDry 3D lamination technology for gloves. The company has also sponsored numerous athletes, including skiers, climbers, and alpinists.
Mountain Hardwear's significant achievements include being acquired by Columbia Sportswear in 2003 and opening its first retail store in 2008. Its product prices vary, but they generally fall into the mid to high range.
Don't miss: 12 Best American Outdoor Clothing Brands
2. Marmot

Marmot official website
Marmot was founded in 1974 by a group of three friends in the United States who shared a passion for outdoor activities. They wanted to design a jacket suitable for their outdoor activities.
One of their puffer jackets, the Golden Mantle, gained popularity after being featured in Clint Eastwood's film The Eiger Sanction in 1975.
Marmot is renowned for incorporating Gore-Tex into its products, which has influenced many other outdoor apparel brands. They also offer high-quality sleeping bags and tents.
The brand primarily uses polyester and nylon in its products and is committed to implementing sustainable sourcing methods to minimize environmental impact. They use PFC-free coatings in many of their gear and have developed their own technologies, such as Eco Featherless and EvoDry, to promote sustainability.
Moreover, Marmot has created NanoPro and MemBrain technologies that enable them to produce durable, lightweight, and breathable products.
Related: 9 Outdoor Brands like Marmot: Best Alternatives
3. Arc'teryx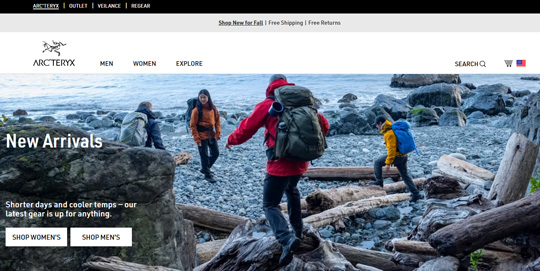 Arc'teryx official website
Arc'teryx is a well-known Canadian company that specializes in high-end outdoor apparel and equipment.
Originally founded as Rock Solid in 1989, the company later rebranded as Arc'teryx in 1991 to focus on producing outerwear and climbing gear inspired by Canada's Coast Mountains.
The brand is headquartered in North Vancouver, British Columbia, and is renowned for its technical apparel for mountaineering and outdoor sports, as well as accessories. The company's name and logo reference the Archaeopteryx, the oldest known bird, and an important moment in dinosaur evolution, symbolizing the company's dedication to innovation.
Arc'teryx's products are categorized into various product families, each differentiated by the Greek alphabet, such as Alpha, Beta, Delta, etc. The brand is famous for its waterproof Gore-Tex shell jackets, down-insulated coats, footwear, and backpacks.
Additionally, Arc'teryx has two other divisions: Veilance, a streetwear retailer, and LEAF, a retailer of technical gear for law enforcement and military forces.
Arc'teryx has been acquired by Salomon Group in 2001, Amer Sports in 2005, and Anta Sports in 2019. The company boasts over 80 branded stores and over 3,000 retailers worldwide.
Their prices vary depending on the product, but they generally fall into the high-end range due to the brand's emphasis on technical performance and quality.
Read also:
Why is Arc'teryx so Expensive and Popular? Is It Worth It?
Is Arc'teryx Sustainable? A Look at their Environmental Practices
4. The North Face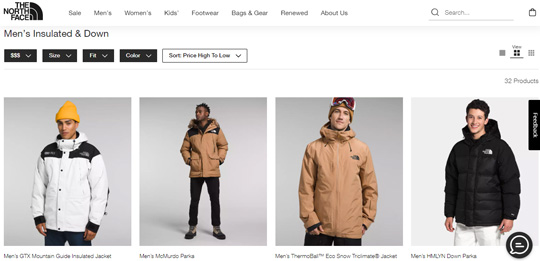 The North Face Men's Insulated and Down jackets: official website
In 1966, Douglas Tompkins and Susie Tompkins Buell founded The North Face in San Francisco, California. The brand's logo features a stylized depiction of Half Dome in Yosemite National Park and has become an iconic symbol.
Currently, The North Face operates under VF Corporation, which is the parent company of various outdoor brands, including Napapijri. The North Face offers a wide range of products for outdoor activities, including backpacks, down puffers, tents for camping, sleeping bags, and hiking shoes.
The brand has developed advanced technologies, such as DryVent and FUTURELIGHT™, which are waterproof and breathable fabrics.
Despite being considered a high-end brand, The North Face also offers reasonably priced items. The brand has recently made efforts to reduce its environmental impact and use recycled materials to promote sustainability.
The Thermoball jacket is a popular product, known for its lightweight and packable synthetic-insulated material that provides warmth even when wet. The Nuptse down jacket is another iconic product, perfect for cold weather.
Read next:
Why Is The North Face So Expensive and Popular? Are Its Jackets Worth It?
11 Brands like The North Face: Our Top Alternatives
5. Helly Hansen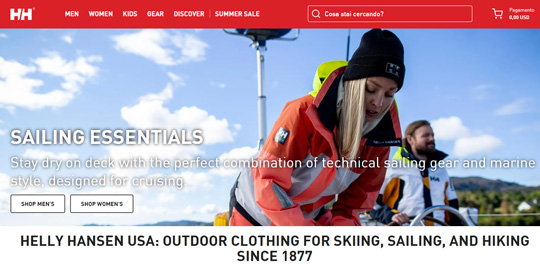 Helly Hansen official website
Helly Hansen is famous for its waterproof clothing, as well as its breathable, highly comfortable, and adaptable jackets. Despite their ability to keep you warm and protect you from harsh cold weather, these jackets are very lightweight.
The company was founded by a Norwegian sea captain named Helly Juell Hansen in 1877. While initially producing equipment for sailors, the brand shifted its focus towards outdoor apparel, particularly outerwear for mountaineering.
Presently, Helly Hansen caters to a wide range of activities and sports, including snowboarding, skiing, trekking, and water activities. The prices of their products vary from affordable to expensive.
Don't miss:
9 Brands like Helly Hansen: Our Top Alternatives
10 Norwegian Jackets and Clothing Brands that You'll Love
6. Columbia Sportswear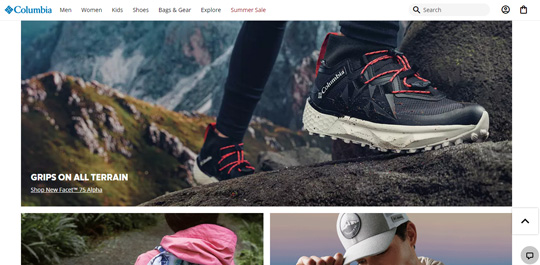 Columbia Sportswear official website
Columbia Sportswear was founded in 1938 in Portland, Oregon, USA, and is commonly known as Columbia by its customers. This brand is recognized for offering products of high quality while maintaining competitive prices.
Despite its affordability, Columbia keeps up with the latest technology trends. One example is its use of Omni-Tech, a fabric technology that is both waterproof and breathable.
Additionally, Columbia's coats feature thermal reflective systems to keep you warm during colder seasons. For those on a tighter budget, Columbia is an excellent alternative to Napapijri.
Related:
10 Brands like Columbia Sportswear: Our Top Alternatives
Patagonia vs Columbia: Which Brand Offers the Best Outdoor Gear?
7. Patagonia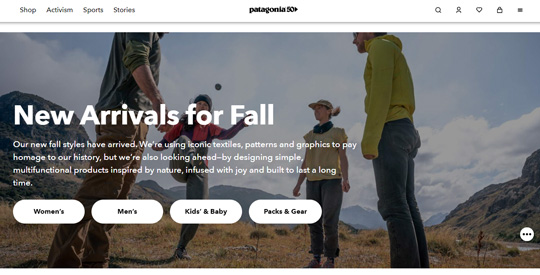 Patagonia official website
Patagonia is a well-respected American brand that specializes in outdoor apparel, recognized for its exceptional quality, durability, and eco-friendliness.
Founded by Yvon Chouinard in 1973, Patagonia is a pioneer in the outdoor industry, providing top-of-the-line products that are built to endure.
Patagonia's extensive product line includes a variety of items, such as jackets, pants, hats, shirts, and more. The company is well-known for its unwavering commitment to sustainability, using recycled materials in many of its products, and donating a portion of its revenue.
In addition, Patagonia has established strict guidelines for its suppliers, ensuring that workers receive fair treatment and a living wage.
Patagonia offers products that are designed to be durable and versatile, ideal for every kind of outdoor activity. Their jackets, for example, are praised for their quality and high performance and are available in many different options for various types of weather.
The Nano Puff and Torrentshell are among Patagonia's most popular jacket designs.
Read also:
9 Brands Like Patagonia for Sustainable Outdoor Clothing
Why Is Patagonia So Expensive and Popular? Are Its Jackets Worth It?
8. Jack Wolfskin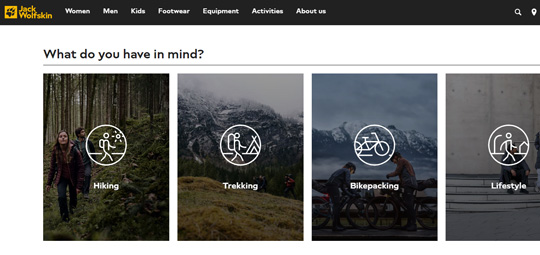 Jack Wolfskin official website
Jack Wolfskin, a German company established in 1981 by Ulrich Dausien, is focused on promoting outdoor exploration while providing secure and comfortable products.
The brand offers an extensive collection of outdoor gear and apparel that has gained significant popularity in Europe. This is due to the brand's affordable pricing, which enables customers to purchase all their necessary outdoor equipment from a single source.
For example, their jackets can be obtained for as low as $100, while backpacks are available for around $70.
Read next: 9 German Jackets and Outdoor Clothing Brands: Our Favorites
9. Fjällräven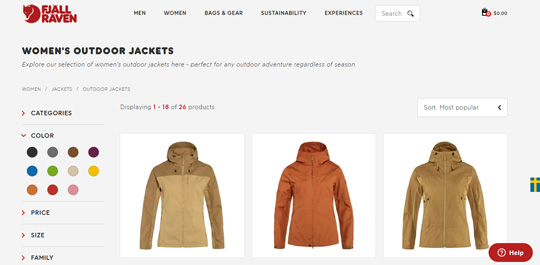 Fjällräven women's outdoor jackets: official website
Fjällräven was founded in Sweden in 1960 by Åke Nordin, who aimed to create a more comfortable hiking backpack. The brand emerged when he began selling the backpack to local communities due to their increasing interest in it.
The meaning of the word "Fjällräven" in Swedish is "Arctic Fox," which is reflected in the company's logo featuring a stylized fox.
Aside from its famous Kånken backpack, Fjällräven offers a broad range of coats and clothing suitable for mountaineering and hiking. This is a high-end brand that delivers superior quality.
Don't miss:
9 Outdoor Brands like Fjällräven: Our Favorites
The Best Swedish Outdoor Clothing and Jackets Brands