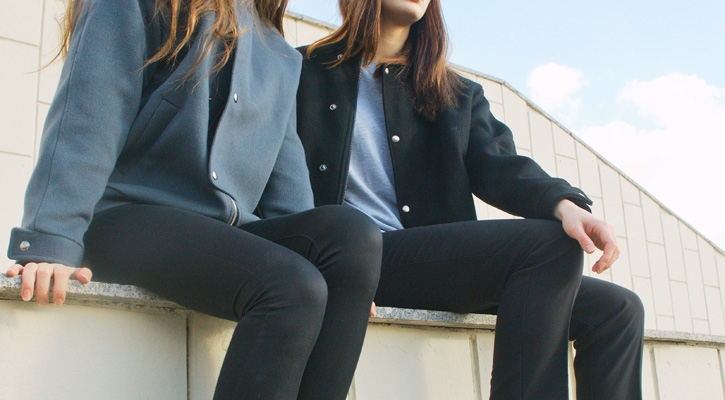 Are you looking for outdoor and casual wear that is fashionable and versatile? The Japanese brand, Uniqlo, is a popular choice.
But there are also many other stores in today's market that offer similar quality and style. In this article, we'll focus on just that! We've researched and picked 9 of the best brands like Uniqlo for outdoor and casual wear.
From Passenger Clothing, a UK-based company that specializes in crafting high-end, trendy, and comfortable outdoor apparel, and that plants a tree for every order received, to Goldwin, another Japanese producer of top-notch gear for outdoor activities inspired by nature, we're sure you'll pick up some new ideas from this selection!
Contents:
1. Passenger Clothing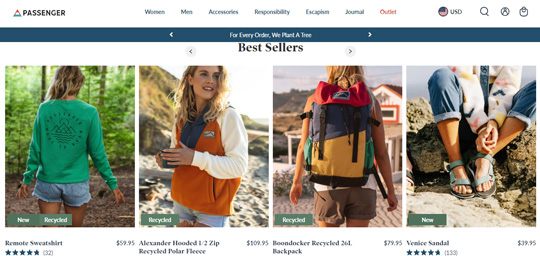 Passenger Clothing official website
Passenger Clothing is a renowned fashion store established in 2013 in the New Forest, UK. The company specializes in crafting outdoor apparel that caters to individuals who love spending time outside.
The brand is a perfect fit for trekking, backpackers, and people who enjoy being active in their cities. They offer high-end, trendy, and comfortable clothing that guarantees customers an exceptional experience while enjoying nature.
One of the impressive aspects of Passenger Clothing is their dedication to the environment. They demonstrate this by planting a tree for every order received, showcasing their commitment to preserving the natural environment.
Don't miss:
7 Brands like Passenger Clothing: The Best Alternatives
8 British Jackets and Outdoor Clothing Brands that You'll Love
2. Goldwin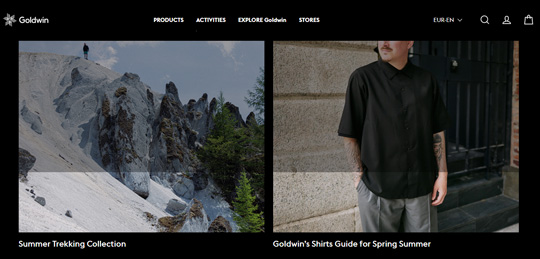 Goldwin official website
Goldwin is a well-known Japanese producer of top-notch apparel and gear for outdoor activities, such as running, skiing, and other athletic pursuits.
The business was born in 1950 as a knit fabric manufacturing facility but later expanded into creating its own line of sporting goods in 1958. Goldwin has since diversified its product line to include skiwear, outdoor clothing, athletic wear, and compression gear.
The brand's design concepts are based on the notion that the most significant innovations are inspired by nature, and nature's most important characteristic is harmony.
Goldwin provides a wide range of collections, including Ski, Outdoor, Athletic, C3fit, and Lifestyle. The Ski collection embodies the brand's minimal and elegant style, supported by its long-standing history and strong functionality.
The Outdoor collection combines accessibility with style to address unforeseen challenges that may arise during outdoor activities. The Athletic collection explores the fundamentals of athleticism and versatility to design all-purpose adaptable clothing by combining various technologies.
The C3fit line offers high-performing outfits that effectively assist wearers in recovering from athletic activities and maintaining their physical conditions. The Lifestyle collection is tailored to suit successful people who enjoy their life in the city, linking urban and nature by integrating sports' functionality and stylish looks.
Goldwin's most important accomplishments include being the official uniform supplier of the Swedish National Team since 1987 and sponsoring British Alpine Ski National Team, as well as British Alpine Skier, Dave Ryding, since 2017. In 2018, the brand updated its logo to focus on skiing.
Goldwin's pricing varies from product to product, but it generally falls into the mid to high-end range due to the brand's emphasis on premium quality and modern design.
Related: 8 Japanese Outdoor Clothing Brands: Our Favorites
3. Napapijri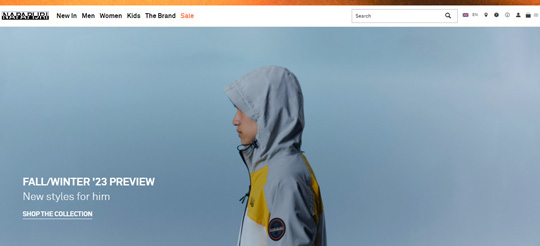 Napapijri official website
In 1987, Giuliana Rosset founded Napapijri, a high-end Italian clothing brand that initially specialized in creating mountain travel bags.
The brand has since diversified into producing outdoor apparel, streetwear, fashion accessories, footwear, and bags. One of Napapijri's most recognizable products is the Rainforest jacket.
Napapijri incorporates imagery into its branding to emphasize travel, adventure, and environmental awareness. The Norwegian flag is also used in the brand's marketing to evoke the country's extreme conditions, beautiful landscapes, and history of famous explorers.
Along with casual apparel, sportswear, and streetwear, Napapijri also makes backpacks and accessories such as belts, gloves, and scarves.
With over 200 stores in more than 20 countries, primarily in Europe, Napapijri's main successes include expanding its product range in the 2000s and introducing the signature Skidoo jacket. The company was sold to VF Corporation in 2004.
Napapijri's products are priced in the mid to high-end range due to the brand's focus on excellent quality. Prices vary depending on the type of product, technologies, and materials used, etc.
Read also:
9 Outdoor Brands like Napapijri: Our Best Alternatives
10 Italian Clothing and Jacket Brands for Outdoor Activities
4. Finisterre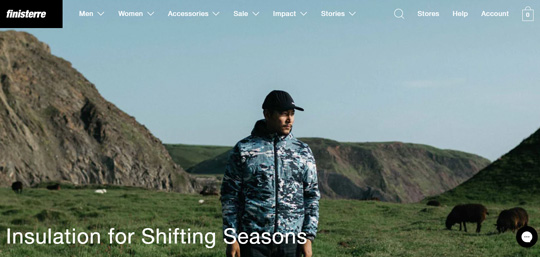 Finisterre official website
Finisterre is a British adventure-wear brand that has been catering to outdoor enthusiasts since 2003. The brand is dedicated to using eco-friendly materials such as recycled polyester and organic cotton, and they work with suppliers who share their values of sustainability and ethical practices.
One of Finisterre's most notable products is its jackets, which are now equipped with a durable water-repellent (DWR) finish that is free of fluorocarbons. This makes them environmentally friendly and water-resistant. Finisterre also offers a wide range of outdoor clothing including fleece jackets, base layers, and accessories.
Apart from their commitment to sustainability, Finisterre is also passionate about community and education. They regularly host workshops to educate people about sustainable living and outdoor activities and collaborate with organizations like Surfers Against Sewage to help preserve the environment.
Finisterre is an excellent alternative to Uniqlo for those in search of sustainable outdoor apparel that lasts for years.
Read next: 8 Brands like Finisterre: Best Alternatives for Outdoor Wear
5. Tentree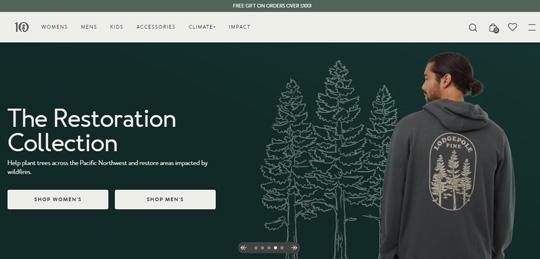 Tentree official website
Tentree, a Canadian company founded in 2012, prioritizes sustainability and ethical labor practices. Their manufacturing process incorporates organic or recycled materials to minimize waste water and emissions.
The company ensures compliance with ethical labor standards via factory audits, fair wages, and equal employment opportunities. Tentree has received certification as a Sustainable B Corporation and a Climate Neutral label, indicating their measurement and offsetting of all emissions.
Their focus on environmentally conscious design has led them to plant over 100 million trees. Tentree offers a range of sustainable clothing, including jackets, activewear, and other items made from materials such as organic cotton, REPREVE® recycled polyester, and TENCEL™ lyocell.
To remain innovative, they continue to explore new materials and techniques, such as recycled nylon and naturally dyed fabrics.
Don't miss: 8 Best Sustainable Outdoor Clothing Brands: Our Top Picks
6. Decathlon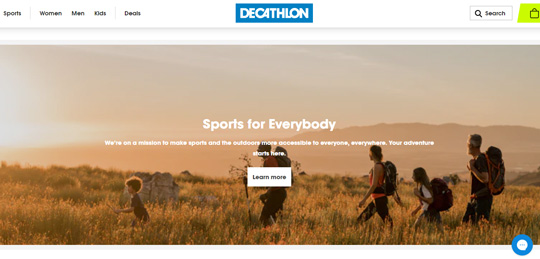 Decathlon official website
Michel Leclercq established Decathlon in 1976 in Lille, France. Today, the company has expanded its operations globally and operates both an online store and more than 1,500 physical stores in over 40 countries.
Decathlon is well-known for providing high-quality and affordable products that are durable and suitable for various sports and activities. In addition, Decathlon has established multiple subsidiary brands that specialize in specific sports like fitness, fishing, golf, biking, running, etc.
The company is committed to promoting an active lifestyle and providing access to sports for everyone. Its products are designed to meet the needs of both professional and amateur athletes while remaining affordable and of excellent quality.
Decathlon offers a vast range of products, including jackets that can be purchased for as little as $50.
Related:
8 French Jackets and Outdoor Clothing Brands: Our Favorites
Cheap Outdoor Clothing: 9 Best Affordable Brands
7. Onitsuka Tiger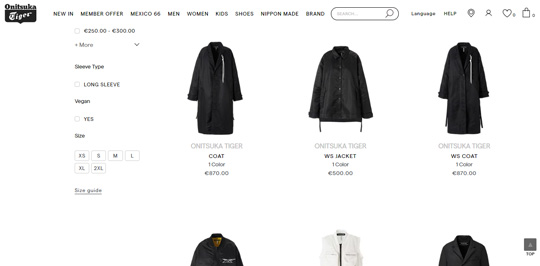 Onitsuka Tiger women's jackets: official website
Onitsuka Tiger is a renowned brand with a long-standing history in both the fashion and athletic industries. Their footwear collection boasts a combination of style and comfort, making them a popular choice among fashion enthusiasts.
The brand's unwavering commitment to excellence and meticulous attention to detail is evident in every footwear design they create. Onitsuka Tiger offers a diverse range of shoe models, ranging from classic to modern, ensuring there is a product to suit everyone's preferences.
Also, their shoes are very comfortable, making them suitable for prolonged wear without causing discomfort. Onitsuka Tiger is dedicated to producing quality, trendy footwear that people love to wear. Additionally, the company has an extensive assortment of sports and casual clothing available.
Read also: 10 Oldest Outdoor Clothing and Gear Brands
8. Lands' End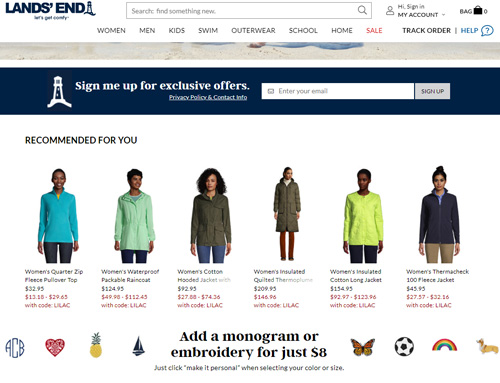 Lands' End official website
Lands' End is a well-known clothing brand that places a strong emphasis on safety and simplicity across its men's, women's, and kids' collections.
The company was established in Chicago in 1963 by Gary Comer, who initially specialized in the sale of sailing equipment. Over time, Lands' End expanded its product offerings to include a diverse range of clothing items.
Originally referred to as "Land's End," an error in the first catalog and insufficient funds to rectify the mistake ultimately led to the brand's current name, "Lands' End."
Today, this company is recognized globally and boasts an extensive selection of styles and designs.
Read next: 9 Brands like Lands' End: Our Favorite Alternatives
9. Prana

Prana official website
Prana is a clothing brand based in the United States and part of Columbia Sportswear. It specializes in creating practical and eco-friendly clothing for adventurers and travelers.
Prana utilizes sustainable materials, such as organic cotton and recycled fabrics, to manufacture its products. Their clothing is designed to be stylish, comfortable, and versatile, making it ideal for many outdoor activities.
Two of Prana's most popular products are the Stretch Brion and Zion pants, which are made from resilient and flexible materials. The company also offers jackets, shirts, and tops that are perfect for layering and outdoor activities, including yoga, hiking, and mountain climbing.
Prana is committed to sustainability, including packaging, through its Responsible Packaging Movement initiative, which aims to reduce the impact of packaging materials. The brand also collaborates with other organizations and companies to promote sustainable causes and programs.
If you're looking for sustainable and adaptable clothing for travel, work, and outdoor activities, Prana is an excellent choice. The brand's emphasis on sustainability and similar designs make it a suitable alternative to Uniqlo.
Don't miss: 11 European Brands for Outdoor Enthusiasts: Our Top Picks