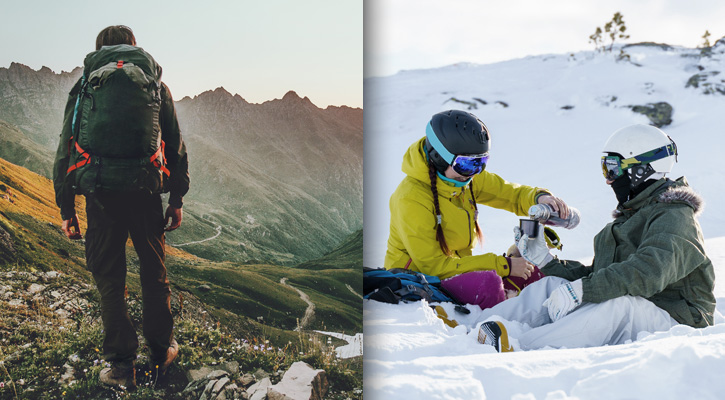 When it comes to outdoor clothing and equipment that gets the job done, two brands that stand out are Fjällräven and Helly Hansen.
Both hailing from Scandinavia, these brands have been in the market for decades and are known for their durable and functional gear. But which one should you choose?
Today, we've made a side-by-side comparison of Fjällräven and Helly Hansen to help you answer the above question and find the right gear for your next adventure up in the mountains.
We'll explore their history, main products, production processes, sustainability programs, and prices.
So, let's get started!
Comparison Table:
| | Fjällräven | Helly Hansen |
| --- | --- | --- |
| Founded | 1960, Sweden | 1877, Norway |
| Product Range | Jackets, pants, backpacks, tents, sleeping bags, and other gear for mountain and lifestyle activities. | Jackets, pants, footwear, backpacks, and other gear for water, mountain, and lifestyle activities. |
| Materials | Nylon and Polyester (some of it recycled), Organic cotton, traceable down insulation, Eco-Shell membrane, G-1000 waxed fabrics, etc. | Nylon, Polyester, and Wool (some of it recycled), RDS down insulation, PrimaLoft synthetic insulation, Helly-Tech membrane, etc. |
| Sustainability | Uses sustainable and recycled materials, focuses on animal welfare, encourages product repair and recycling, eco-friendly production and packaging. | Committed to sustainability and environmental protection. Uses sustainable and recycled materials. |
| Production Locations | Asia (China, South Korea, Vietnam). | Asia (China, Cambodia, Vietnam, Bangladesh, etc.), materials from Europe and Asia. |
| Prices | Mid to high: jackets $150 – $1000, backpacks $60 – $400. | Mid to high: jackets $75 – $2000, backpacks $50 – $250+. |
| Decision | Better for hiking, backpacking, camping. Minimalist, classic, retro designs. Eco-friendly fabrics. | Better for water activities, skiing, snowboarding. Modern designs. Highly-waterproof fabrics. |
1. Fjällräven Outdoor Gear
History of the Brand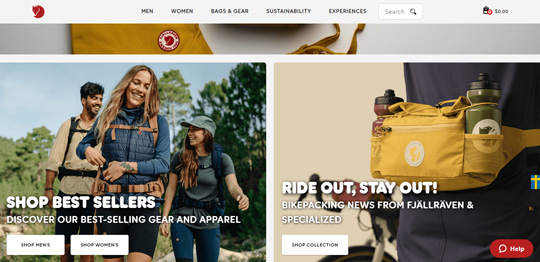 Fjällräven official website
Fjällräven, a Swedish brand, derives its name from the Arctic Fox and features the animal in its iconic logo.
In 1960, Åke Nordin, an avid hiker, established the company with the goal of designing a backpack that could carry heavier loads without causing back strain. His success led to the founding of Fjällräven, which aimed to fill the market gap for lightweight and supportive backpacks.
The Kånken backpack was invented in the 1970s to address back problems faced by Swedish school children due to the lack of proper backpacks. Today, the Kånken backpack is a popular product not only for school children but also as a fashion item.
Fjällräven has since launched many other outdoor products, including insulated jackets, hiking packs, trekking pants, sleeping bags, and camping tents. With a diverse collection, Fjällräven has everything needed for your outdoor adventures.
Don't miss: 9 Outdoor Brands like Fjällräven: Our Favorites
Materials, Fabrics, and Production Process
Fjällräven is renowned for manufacturing robust backpacks and jackets that have a long lifespan, which is why the brand is highly favored by outdoor enthusiasts. The manufacturing procedure is meticulous, and the level of attention to detail is evident as soon as you touch one of their products.
The materials used are meticulously chosen, with G-1000 being one of them. This fabric is breathable and durable and can be waxed to make it versatile in different weather conditions.
This Swedish company ethically sources natural down from ducks and geese, which is used in their winter parkas and insulated jackets due to its insulating ability in low temperatures.
Fjällräven also utilizes synthetic materials such as Polyester and Nylon. However, to be eco-friendly, a significant proportion of the Polyester used is recycled. Recycled polyester is also utilized to create technical fabrics such as Eco-Shell, a lightweight, weather-resistant material.
Johan Jonsson | Above the tree line x Bergtagen | Fjällräven
The video will be loaded from YouTube.com, a third party. If you play it, you accept their terms of service, and their use of cookies.
Read also:
Is Fjällräven Ethical and Sustainable?
9 Swedish Outdoor Clothing and Jackets Brands: Our Favorites
Where is Fjällräven's outdoor gear made?
Fjällräven produces most of its merchandise in different Asian countries, such as China, South Korea, and Vietnam. (more information here)
Recommended Products
Fjällräven Expedition Men's Down Jacket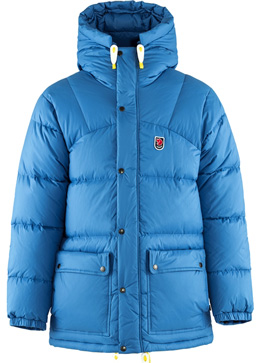 Image: fjallraven.com
Check it out at Fjallraven.com
The Expedition jacket is made of a blend of Nylon and Polyester and features ethically sourced down insulation, making it an ideal choice for extreme expeditions.
With its high price point, the jacket reflects exceptional quality, which is expected for such a premium product.
Fjällräven Classic Kånken Backpack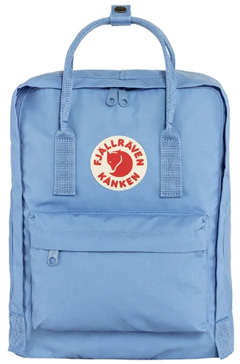 Image: fjallraven.com
Check it out at Fjallraven.com
The Kånken backpack is made from Vinylon F material, which is known for its durability and sturdiness, and is composed of 100% vinylal.
It's a high-quality backpack that is water-resistant and has been crafted with great attention to detail. It is not only suitable for students but can also be used as a day-to-day accessory for carrying laptops, books, and tablets.
Prices
Fjällräven is a premium company that offers a range of mid-to-high-priced products, including backpacks priced between $60 and $400 and jackets with a cost spanning from approximately $150 to $1000. Among their collection, the insulated winter parkas are the priciest.
Are Fjällräven products worth the price?
We believe that indeed, the simplicity of Fjällräven designs is admirable, and their products are highly appreciated by customers around the globe for their sturdiness. The insulation is superb, and the construction is unbreakable. So, the answer to this question would be "Yes!"
Learn more: Why is Fjällräven so Expensive? Are Its Products Worth It?
2. Helly Hansen Outdoor Gear
History of the Brand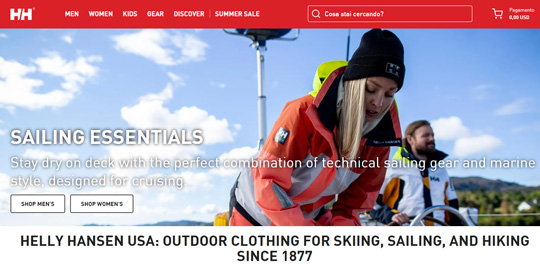 Helly Hansen official website
Helly Hansen is a well-known Norwegian brand that has been in existence since 1877, founded by sea captain Helly Juell Hansen.
The brand specializes in water and mountain gear, and it was initially created to provide sailors with superior gear to protect them from difficult conditions while sailing the sea. Over the years, the brand has evolved and expanded to cater to a broader range of disciplines beyond sailing.
Helly Hansen is a popular choice among skiing enthusiasts, and many ski resorts utilize the brand to outfit their staff.
The brand continues to be a global leader in sailing gear and apparel, as well as mountain gear, offering apparel and equipment for various mountain activities, including mountaineering, trekking, hiking, skiing, and backpacking.
Don't miss:
9 Brands like Helly Hansen: Our Top Alternatives
10 Norwegian Jackets and Clothing Brands that You'll Love
Materials, Fabrics, and Production Process
To ensure the safety of sailors and fishermen in harsh ocean conditions, Helly Hansen incorporates water-resistant treatments in their clothing.
Their jackets and other apparel utilize Helly Tech, a fabric technology that is highly waterproof and breathable, a difficult combination to achieve. Helly Tech is similar to Gore-Tex, a well-known fabric technology very famous in the outdoor community.
The brand also employs other popular fabrics such as Nylon, Polyester, Wool, and Fleece, many of which are made from recycled materials and RDS-certified Down.
Helly Hansen places a high priority on environmental protection and ethical values during the manufacturing of its products, recognizing the natural environment as our most valuable asset. More information on their sustainability programs can be found on their website.
Helly Hansen / Alive Since 1877 (full edit)
The video will be loaded from YouTube.com, a third party. If you play it, you accept their terms of service, and their use of cookies.
Read also:
Helly Hansen vs Haglöfs: Which is Better for Outdoor Gear?
3 Best Norwegian Backpack Brands: Our Top Picks
Where is Helly Hansen's outdoor gear made?
Helly Hansen produces their outdoor clothing and gear in various countries, including China, Vietnam, Cambodia, and Bangladesh. The company obtains its fabrics and materials from factories situated in Europe and Asia. (more information here)
Recommended Products
Helly Hansen Verglas Infinity Men's Shell Jacket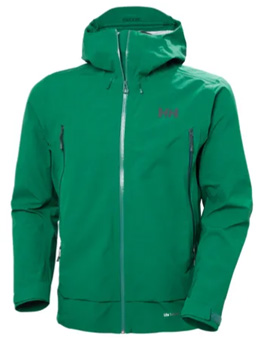 Image: hellyhansen.com
Check it out at HellyHansen.com
The Helly Hansen Verglas Infinity Jacket for men is designed with the assistance of professionals who frequently encounter unpredictable weather conditions during extended periods in the mountains. This jacket is suitable for backcountry skiing, trekking, and mountaineering.
It incorporates the brand's highly waterproof/breathable LIFA INFINITY™ technology, which provides reliable protection without the use of chemicals. The jacket is made with a recycled face fabric and a PFC-free durable water repellent treatment, making it an environmentally friendly option.
This hard shell provides maximum protection and is designed to be compatible with helmets, backpacks, and harnesses. Other notable features include pit zips for ventilation, a RECCO® transponder for safety, and a waist drawcord for added warmth in windy conditions.
Helly Hansen Transistor Backpack Recco®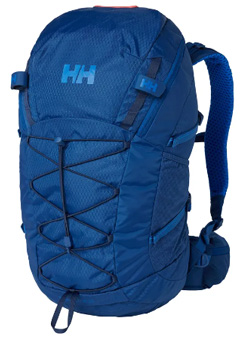 Image: hellyhansen.com
Check it out at HellyHansen.com
The Transistor backpack is a great option for outdoor adventurers. It's lightweight and versatile, with features typically found on larger hiking backpacks but in a more compact size.
The backpack includes multiple pockets, is fully compatible with hydration systems, has 3D air-mesh ventilation on the back, and even features a RECCO® reflector for added safety.
Prices
Helly Hansen is a brand that sells products at mid to high-range prices. Their jacket collection ranges from $75 to $2000, while their backpacks start at $50 and can cost over $250.
Are Helly Hansen products worth the price?
We think they're worth it. And the reason is that it can be difficult to find outdoor gear with the same level of quality and durability at a lower price point, even though it may seem expensive and not accessible to all.
Learn more: Why is Helly Hansen so Expensive and Popular: Is It Worth It?
3. Which is Better? Fjällräven or Helly Hansen?
Both Fjällräven and Helly Hansen are exceptional outdoor gear brands.
Fjällräven specializes in outdoor and mountain activities such as hiking and backpacking, offering a vast selection of backpacks, jackets, pants, tents, sleeping bags, and accessories.
Helly Hansen, on the other hand, is renowned for its high-performance gear suitable for water and mountain activities, making it a popular choice among professionals and beginners alike. They offer a range of jackets, backpacks, footwear, suits, and other gear.
Although the prices are generally similar, Helly Hansen's highly insulated jacket designs for difficult expeditions tend to be more expensive.
Both brands have implemented environmental protection programs to promote sustainability. Also, they both offer lifestyle products.
As for designs, Helly Hansen has more modern-looking styles, while Fjällräven prioritizes a minimalist, classic style.
In the end, the final choice will depend on your personal style, preferences, and budget. But for us, Helly Hansen would be the choice for water activities, skiing, and snowboarding, while keeping Fjällräven as an option for hiking, backpacking, and camping.
Read next:
Patagonia vs Helly Hansen: Which Brand is Better?
The North Face vs Helly Hansen Outdoor Gear: A Comparison