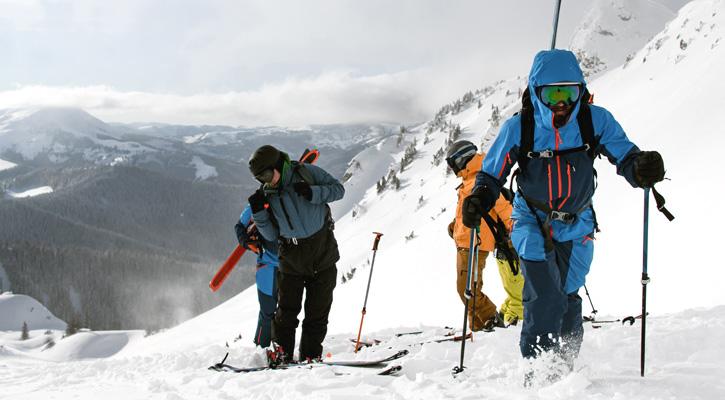 Mountain Hardwear is an American brand that offers outerwear, sportswear, and outdoor equipment. The company has introduced several innovative technologies and sponsored many athletes, including skiers and alpinists.
So, a great brand if you like mountain activities and sports!
Today, we'll explore 8 brands that are similar to Mountain Hardwear and in the end, you'll have even more outdoor gear options.
From Arc'teryx, a Canadian company, to RAB, a brand from the UK, to Ferrino from Italy, these names continue to value outdoor life and produce high-quality and durable products, just like Mountain Hardwear.
Let's get started!
Contents:
1. Arc'teryx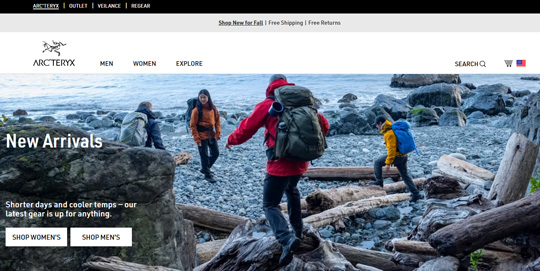 Arc'teryx official website
A Canadian renowned company for producing top-notch outdoor apparel and gear, Arc'teryx was founded in 1989 under the name Rock Solid. Later it changed its name to Arc'teryx in 1991, focusing on creating climbing equipment and clothing inspired by Canada's Coast Mountains.
The company is headquartered in North Vancouver, British Columbia, and is well-known for its technical mountaineering apparel, accessories, and outdoor sports gear.
Arc'teryx's name and logo are inspired by the Archaeopteryx, the oldest bird known to man, and a significant moment in dinosaur evolution, symbolizing the brand's commitment to innovation.
Arc'teryx products are grouped into various lines, each named after a Greek alphabet letter, such as Alpha, Beta, Delta, etc. The brand is famous for its breathable and waterproof Gore-Tex jackets, down-insulated jackets, backpacks, and shoes.
Arc'teryx has two other lines of designs, Veilance, a streetwear retailer, and LEAF, which offers technical gear for military and law enforcement forces.
The company has over 80 branded stores and more than 3,000 retailers worldwide. Prices vary, but they are generally high-end due to the brand's dedication to quality, technical performance, and sustainability.
Don't miss:
Is Arc'teryx Sustainable? A Look at their Environmental Practices
Why is Arc'teryx so Expensive and Popular? Is It Worth It?
2. RAB

RAB official website
RAB is a famous UK-based outdoor clothing and equipment manufacturer that specializes in crafting top-notch gear for mountaineering and climbing aficionados.
The company has built its reputation on using exceptional materials and innovative designs since the 1980s.
RAB's product range includes jackets, pants, base layers, sleeping bags, and gloves that are lightweight, durable, and comfortable, making them perfect for outdoor enthusiasts who engage in demanding activities.
The Microlight Alpine jacket is one of RAB's most popular products, thanks to its compressible and lightweight down material that delivers excellent warmth and protection. The jacket's slim-fit design is both practical and stylish, and it is crafted from premium materials.
In addition to making high-performance gear, RAB is focused on ethical manufacturing and sustainable processes. The brand uses recycled materials and collaborates with partners who have the same vision.
If you're an outdoor enthusiast, RAB is a brand that will leave you impressed with its innovative designs, quality commitment, and attention to detail.
Related:
7 Brands like RAB for Outdoor Adventures
8 British Jackets and Outdoor Clothing Brands that You'll Love
3. Mammut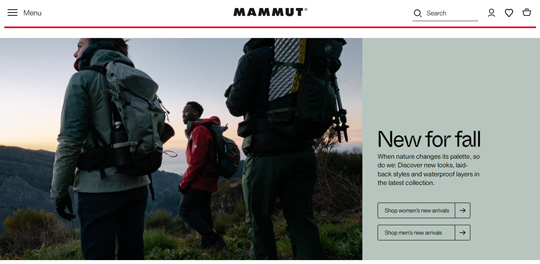 Mammut official website
Mammut is a Swiss company that has been operating for over a century and specializes in outdoor gear. The company was founded by Kaspar Tanner in 1862 and originally focused on producing ropes.
Currently, Mammut has broadened its product range to include various items suitable for camping, hiking, and mountaineering, ranging from casual to technical, including equipment, clothing, and footwear.
Despite being costly, Mammut products are well-known for their advanced technology and stylish designs that perform exceptionally well.
The Mammut Eiger Speed ML Hybrid Hooded jacket is one of the brand's most popular products, suitable for mountaineering, trail running, and ski touring. The Mammut Nordwand Pro Gloves are also among the brand's top products, designed for skiing and mountain activities. These gloves are resistant to water and offer excellent protection using Gore-Tex Grip and PrimaLoft Gold insulation.
Read also:
8 Outdoor Brands like Mammut: Our Best Alternatives
7 Swiss Jacket and Outdoor Clothing Brands: Our Favorites
4. Patagonia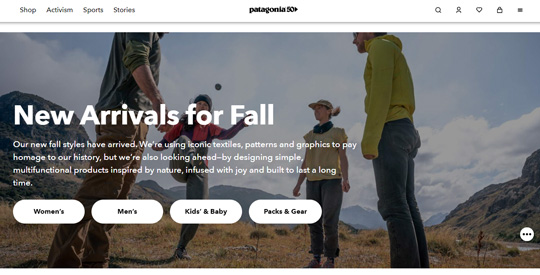 Patagonia official website
The American-based company Patagonia is widely recognized for its exceptional outdoor clothing that boasts superior quality, durability, and eco-friendliness.
Founded in 1973 by Yvon Chouinard, Patagonia has been a trailblazer in the outdoor industry, producing long-lasting and reliable products.
Patagonia's extensive product line includes rain jackets, insulated jackets, pants, fleeces, hats, shirts, and more. The company is renowned for its dedication to sustainability, incorporating recycled materials into many of its products, and donating a portion of its revenue to environmental causes.
In addition, Patagonia has strict supplier guidelines to ensure that workers are treated fairly.
Patagonia's products are versatile and sturdy, making them ideal for all outdoor activities. The company's jackets, in particular, are highly regarded for their quality and performance, with various options available for different weather conditions. Some of Patagonia's most popular jacket designs include the Nano Puff and Torrentshell.
Read next:
9 Brands Like Patagonia for Sustainable Outdoor Clothing
12 Best American Jackets and Outdoor Clothing Brands
5. Ferrino

Ferrino official website
Ferrino, a reputable name in the outdoor sector, has its roots in Italy and was established in Turin in 1870. The company's primary objective has always been to discover new solutions.
In 1890, Ferrino transformed the camping industry by introducing waterproof and long-lasting tents, which were widely embraced by consumers.
The brand's clothing line is also highly esteemed, and it provides a broad range of options to meet diverse customer needs. Ferrino is recognized for its comprehensive assortment of outdoor gear, including backpacks, tents, jackets, and other apparel.
Don't miss:
8 Italian Backpack Brands for Outdoor, Travel, and Casual Wear
10 Italian Clothing Brands for Outdoor Activities
6. Millet

Millet official website
Millet is a French company that specializes in producing durable mountain gear, clothing, and footwear. It was founded by Marc Millet and his partner in Saint-Fons, near Lyon, in 1921.
The company is committed to sustainability and carefully selects materials for its products to withstand harsh conditions such as wind, rain, snow, and low temperatures.
Millet's products provide superior comfort and flexibility while also offering protection from the elements. The brand is highly respected among outdoor enthusiasts for its excellent products.
Millet only uses top-quality materials and advanced technologies, which accounts for the high cost of some of its products. Some of Millet's jackets and shoes are priced at over $200.
Related:
5 Best French Hiking Boots and Shoe Brands
8 French Backpack Brands that You'll Love
7. Haglöfs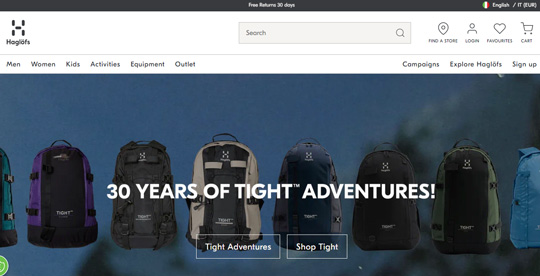 Haglöfs official website
Haglöfs was established in 1914 in Sweden by Wiktor Haglöf. The company is known for its focus on the tranquility and splendor of nature.
Haglöf's initial objective was to create a sturdy backpack, which he achieved before expanding to produce high-quality clothing. Today, the brand specializes in a wide variety of equipment and accessories for outdoor enthusiasts, catering to men, women, and children.
Haglöfs offers clothing that is suitable for a variety of outdoor activities, such as camping, trekking, backpacking, sports, and work.
Many of the materials used in their products are not only long-lasting and able to withstand severe conditions but also environmentally friendly. As a result, their prices are usually on the higher side, ranging from $150 to $400.
Read also:
9 Swedish Outdoor Clothing and Jacket Brands: Our Favorites
7 Best Backpack Brands from Sweden
8. Bergans of Norway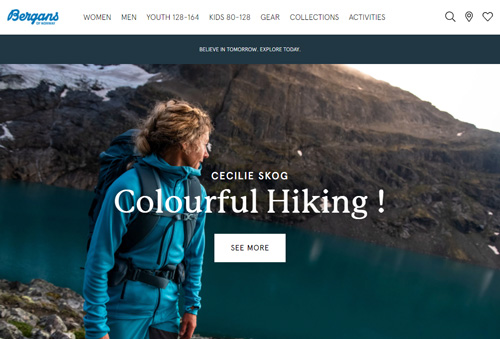 Bergans of Norway official website
Bergans of Norway is a respected player in the outdoor market, with a rich history of innovation since its inception in 1908.
It is credited with inventing the modern backpack, which was used by famous polar explorers like Amundsen during their expeditions. The brand continues to value outdoor life and has become a significant reference point in the Norwegian market, as well as in Europe and the USA, with its expanding stores.
Bergans offers a wide range of products for various outdoor activities such as trekking, skiing, fishing, and expeditions. The brand is well-known for its high-quality and durable products, similar to Mountain Hardwear, making it a worthwhile consideration if you're looking for outdoor gear.
Read next:
3 Best Norwegian Backpack Brands: Our Top Picks
10 Norwegian Jackets and Clothing Brands: Our Favorites